Many of our guests have the same FAQs with online booking so I thought some images would help me to explain some of the most common errors or questions in the process.  Once you get the hang of it, our online scheduling system is AWESOME.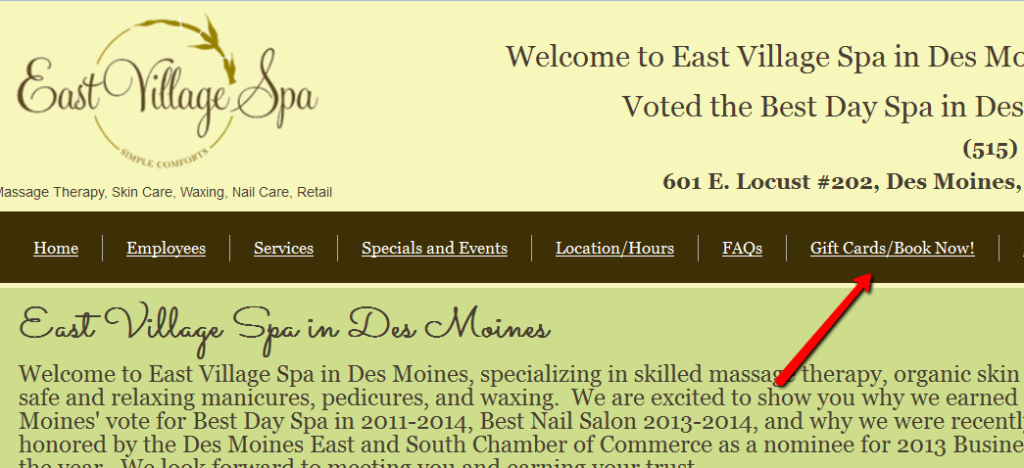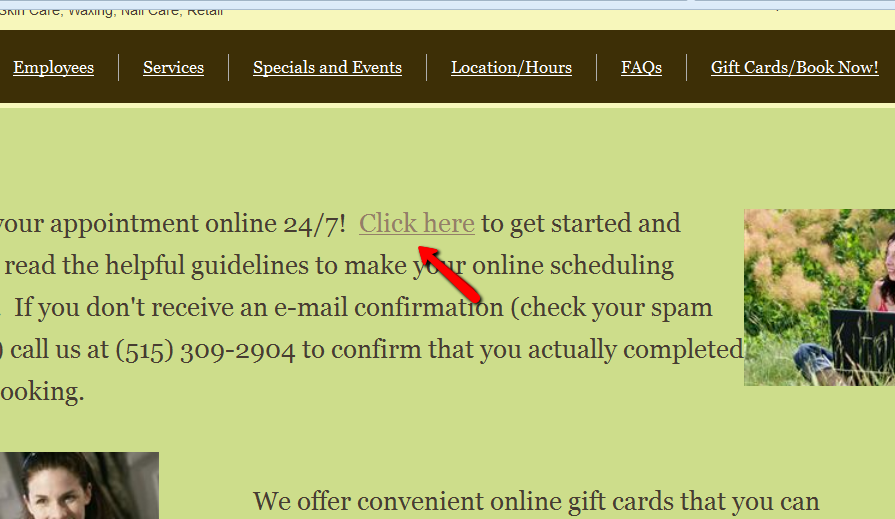 Step 1:click  "Gift Cards/Book Now" in the menu bar, then once that page opens, click in the text paragraph to book your appointment.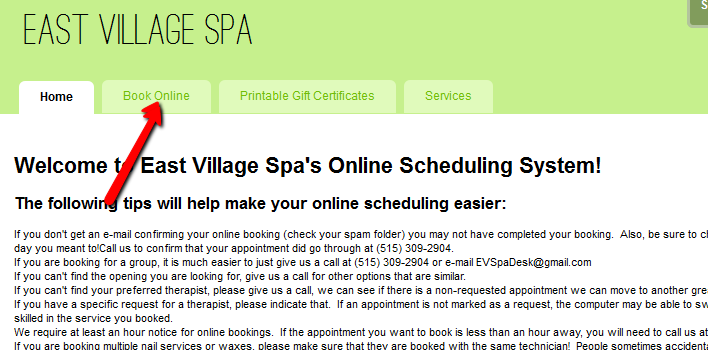 Step 2: click  "Book Online" which is the second tab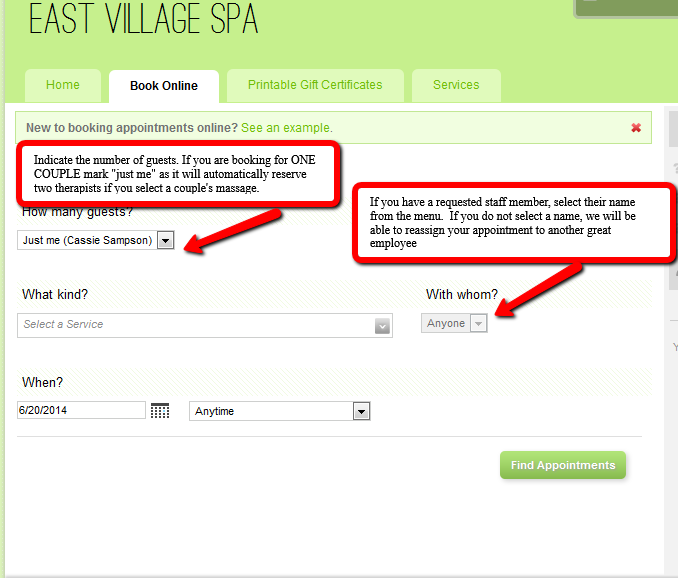 Step 3: Select the number of guests. UPDATE: As of July 2016 Booker has a new feature. If you are booking for two guests for a couple's massage, there is a new item in the drop down menu that states "Two Guests-A Couple" Select that for a couple's massage.
Step 4: If you don't have a staff preference, skip this step.  If you DO have a staff member you're requesting, you need to select their name from the drop down menu or the computer can automatically reassign your appointment to another great employee to accommodate schedule changes or other guest requests.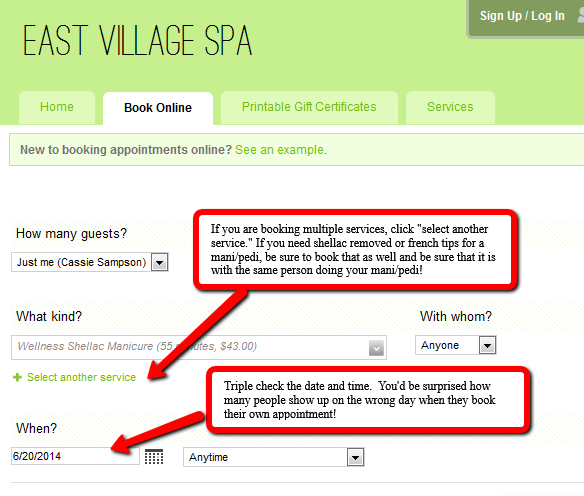 Step 5: Select your service from the drop down menu. If you are selecting more than one, click the green "Select another service" button below the menu.  If you are booking a mani/pedi and want to add french tips or shellac removal, be sure to add that as another service and be sure to add it with the SAME nail tech who does your mani or pedi!
Step 6: Select the date and time.  Triple check this.  You'd be surprised how often guests accidentally choose the wrong date or time (sometimes the wrong month!)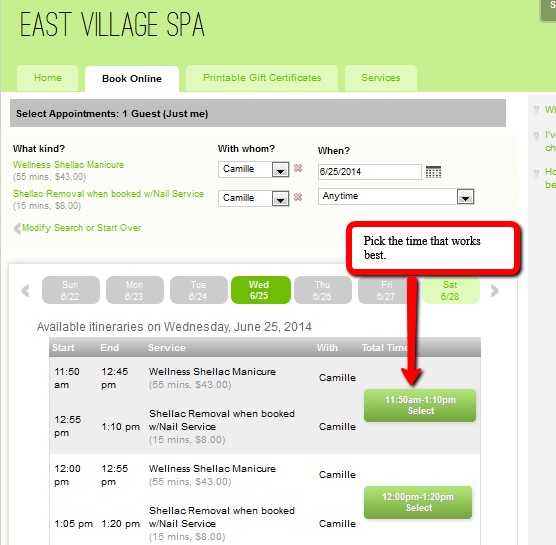 Step 7: Select your appointment time
Step 8: Log into your account.  If you have an account but create a new one or choose not to log in, the computer will show you as a new guest.  This is not the worst thing in the world, but when you arrive, our receptionists will probably ask you to do paperwork.  You can clarify with them them to get your accounts merged when you arrive, but plan a couple of extra minutes if you do this as it might take a few minutes for us to sync up your accounts so your therapist can read your past notes and health history.
Step 9: If you have a promo code (most likely from a facebook or newsletter special we occasionally post) enter it in the promo code box now.
Step 10: Enter your credit card, spa gift card, or spafinder gift card number to hold your booking. This is required for our cancellation policy.  (note: you will have to agree to our cancellation policy in order to schedule).  You can pay with a different card, check, or cash at the time of your appointment.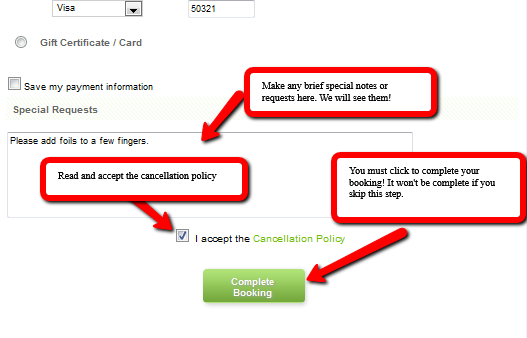 Step 11: Add any notes to the "special request" box (allergies, if you prefer the table warmer to be extra hot or turned off when you arrive, any special health concerns you want your therapist or technician to know about in advance, etc…)
Step 12: Accept (and read) the cancellation policy.  We do adhere to this policy.
Step 13: CLICK THE GREEN "COMPLETE BOOKING" BOX!  If you forget this step, you didn't make an appointment.  It is like wondering why your Amazon order never arrived and realizing it is still in your shopping cart online because you missed the last "submit order" step (which I do all. the. time.)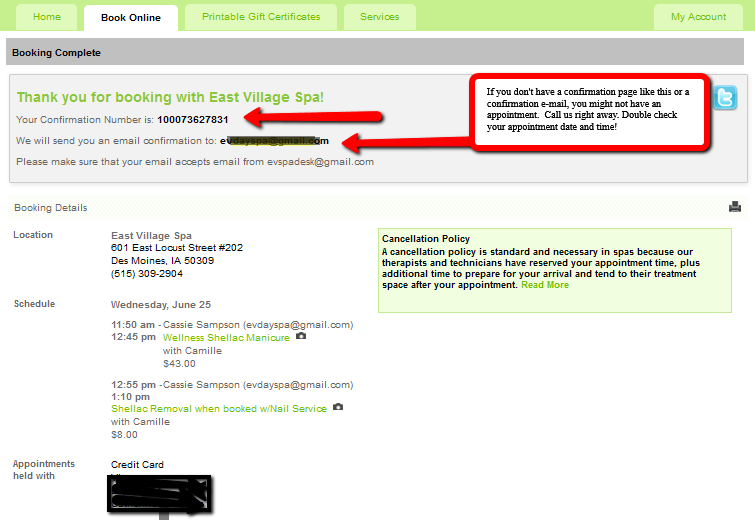 Step 14: You'll get a "Booking Complete" screen and a confirmation e-mail.  If you don't get these, you probably didn't finish your booking so call us right away.  If your browser was chugging along and you just quit and assumed your booking went through, check your e-mail for a confirmation.  Again, when in doubt, call!
Most Common Troubleshooting Tips:
If you started the booking process but abandoned ship before you finished, only to try again a few minutes later, that appointment will no longer show up.  Give us a call or log out and give the computer 10 minutes to free-up the appointment.
You have to book AT LEAST one hour before the appointment time to give us a chance to see your booking and prepare for you.  If you want in with less than an hour, call us to check availability.
Remember, our schedule is constantly changing because we take bookings and cancellations over the phone at the spa as well, and our employees change schedules.  If you see openings you want when you log in at 6am, don't expect them to still be open when you log back in at 9am.
If you want to book 3-4 services or for 3 or more people, we prefer you to call or shoot us an e-mail at evspadesk@gmail.com because we have more flexibility and options in scheduling that way.
About 50% of our spa appointments are booked online and usually the system is slick, but sometimes there are glitches, whether human or computer error.  If you aren't sure how to book your appointment online, please do give us a call and we're happy to help.
Thank you for choosing East Village Spa for your services, we are truly honored to help you look and feel your best and look forward to seeing you!