We've been getting lots of questions about the safety of spa services for pregnant women and I'm excited to share more information with you!  First of all, massage therapy is a time-tested and safe way to help nurture a mom-to-be.  Unfortunately, many people hear conflicting information about what is and isn't safe and we'd like to help dispel any myths.
Myth: Prenatal massage is only safe in the second and third trimester.
Truth: Prenatal massage is safe throughout a healthy pregnancy.  If your physician has any concerns or you are at particularly high risk, please consult with them so they can share with your massage therapist their recommendations for the best treatments.  If you are having a healthy pregnancy, massage is great throughout!  For a great article about the safety of massage in the first trimester, click here.
Myth: Pregnancy massage should be performed with the client laying face down and her abdomen poking through a hole on the table.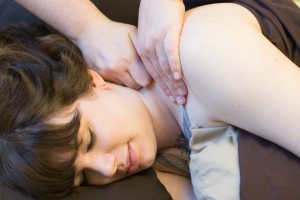 Truth: While many prenatal therapists do use a table or pillow positioning system that has the pregnant guest laying face-down, more and more therapists and experts are recommending the sidelying positioning for pregnant women (which we have always used) to prevent injuries to the back and uterine ligaments.  Also, sidelying position allows great access to the hips, gluts, shoulders, low back, and legs, where most pregnant women complain of pain.
Myth: If you rub over a point on the ankle a woman can go into labor
Truth: Pregnant women have been getting foot massages from their untrained partners for ages, wearing tight shoes, and more without stimulating preterm labor.  True, some forms of therapy (particularly Reflexology, Acupressure, and other Eastern techniques) do focus on points in the body that correspond to other areas of the body like the uterus and some practitioners feel that if intentional, firm, and sustained pressure is applied, those points could stimulate uterine contractions.  However, for a normal foot or leg massage, this will not be the case.  Your massage therapist and nail technician can give you a great foot massage (which is very helpful for feet with swelling and pain from the added weight) without lingering deliberately on those points.  If you have any concerns, please talk to your massage therapist and if it helps you to rest easier, we can skip the foot massage, but truly, your poor feet deserve it and experts from the American Pregnancy Association feel it is safe.
Myth: All spa services are safe for pregnant women.
Truth: While most services, including modified facials, pedicures, and massage are safe and very beneficial for pregnant women, some forms of these services should be avoided including facial peels or facials that use ingredients that are not pregnancy safe (we only use the products recommended by the Derma E for pregnant women, our estheticians know which ones to avoid!)  Our massage therapists will not perform heat treatments like body scrubs (lots of hot towels) or hot stone massage on pregnant women so as not to raise core temperature.  The only therapists who perform our prenatal massage are those who have training and who LOVE helping our pregnant guests.  We also recommend that if pregnant women want nail services, they look for nail salons who have very high safety standards and who use high quality products.
For more information on the safety of prenatal massage from a trusted source, The American Pregnancy Association, click here.
To schedule a prenatal service, including our Pampering Pregnancy Massage, our Pregnancy Glow Facial, or any of our manicures and pedicure, click here.
Copyright © East Village Spa 2014 All Rights Reserved. No part of this website may be reproduced without East Village Spa's express consent. Our photography may not be used in any manner without our express written consent. Backlinks and sharing with the buttons at the bottom of the page are allowed.