I typically try to keep this blog focused on lighter topics, but the issue of human trafficking in the spa and nail industry lately has been bubbling up again on my radar.  Often people think of sham "massage" businesses when they think of human trafficking, but over the years criminals are getting more creative in hiding victims.
We know we are not the "cheapest" place to go for a manicure or pedicure.  We don't compete on price.  We hire experienced, licensed, and just super nice nail technicians and cosmetologists to provide our services, use high quality products including many we send home with you, and our polishes are widely regarded as some of the best in the industry in their categories.  We love our employees and know if we treat them well, they will treat our clients well.  Providing manicures and pedicures is a great job, one that our employees thoroughly enjoy.  They get to be artistic, nurturing, and spend time getting to know their clients.  Their regular clients are like their family to them!  Unfortunately, this isn't the case for all people working nail salons in the United States.
We know how expensive it is to provide great nail care (the spa cost of one teeny tiny bottle of CND Shellac is $18.95!), which is why I'm always shocked at the ridiculously low price of some manicure and pedicure services, especially in big cities that have a much higher cost of living.   To compete on price alone, salons have to cut costs elsewhere.  Typically this is done by using lower quality products.  Unfortunately "cheap" salons frequently cut corners on sanitation because they depend on high volume to make rent and proper sanitation takes time (it takes more than 10 minutes to disinfect a whirlpool tub in a pedicure lounge, but rarely would you see that happen in a high volume salon).
The most alarming reason for "cheap" nail services is that costs are being cut with labor.  It might be that employees are not being paid a fair living wage, but sadly,  some nail salons are being used as human trafficking fronts and raids and arrests in other areas of the United States are shedding light on this.  In recent years, nail salons were found operating as a front for human trafficking in Pennsylvania, New Jersey, Massachusetts, Virginia, and California.  Nails Magazine published one of the best articles on this problem specific to nail salons.    Click here to read it.  Just last month, a popular DC spa came under scrutiny for suspected willful refusal to pay wages and abduction.
Fortunately, the  majority of nail salons are like ours in that they strive to build nurturing relationships with clients to help them look and feel great while providing a supportive work environment.  The unfortunate reality is that unethical and shady business practices are more common in the industry than people realize so consumers need to be vigilant.  The Polaris Project works to educate the public and rescue victims of human trafficking.  These are the warning signs they recommend looking for.
It was never my intent to learn as much about nail salons and nail care as I do (I'm a nursing home activity director turned massage therapist!) but I'm glad I know what to look for and I'm thankful for the opportunity to work with the bright, enthusiastic, and creative women providing the nail services at our spa.  I appreciate them and I know for a fact, they appreciate all of you!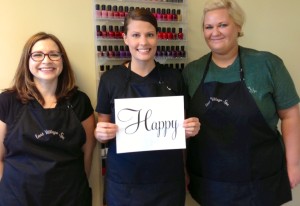 Cassandra, Camille, and Leah posing for our New Year card!