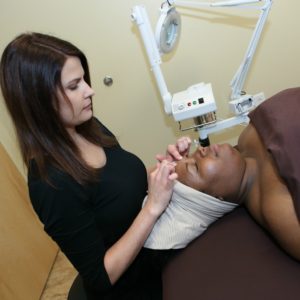 Camille Arbegast has been a valuable member of our team since she joined us as to provide nail and skin care services in February 2012.  Camille is one of the most dedicated professionals I've met, and since 2014, she's been our managing technician, mentoring our new team members and ensuring that all of our services providers have the tools and training that  they need to do great work!
What licenses do you have and how long have you been in the industry?
I graduated from PCI in Ames with a cosmetology degree in 2010 and esthetics degree in 2011.
What are your specialties?
I specialize in relaxing, yet corrective facials (including Hydrafacial), general Rhonda Allison product and ingredient knowledge, and waxing. I'm especially known for great female Brazilian waxing.
Why did you choose this field?
My first job was as a receptionist at a hair salon, which sparked an interest in taking care of and helping people. That initial interest grew into my passion.
Describe your treatment style in 3 words:
Professional, gentle, and calming
What is your favorite service to give?
Brazilian waxes and corrective facials. I love helping my clients figure out the puzzle of what works and what doesn't work for them.
What is your favorite service to receive?
Massage therapy-my body needs it!
What is your favorite spa retail product?
I love the Rhonda Allison Ultra Hydration Creme.
What do you do in your free time?
I love motorcycle riding with my husband, cuddling my dogs, and traveling to tropical islands.
Why should clients visit YOU?
I genuinely care about every client that visits me. I always take time to educate and help clients with all of their concerns, questions, and skin care goals.
What are clients saying about Camille?
"Camille is amazing! She does great work, is so professional, and very friendly. I've been seeing her for over a year now and I look forward to seeing her and chatting."
"Camille is a waxing wizard. She does an amazing job, she makes you feel 100% comfortable and is incredibly fast."
"Camille is always friendly and makes you feel welcome. There is a calmness about her that makes you feel right at home. She takes the time to truly look at your skin and makes every effort to help your specific areas, without being pushy. And her massage techniques during facials are amazing!! I always feel great after receiving a service from her."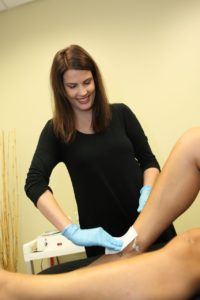 Want to schedule a facial, wax, manicure or pedicure with Camille?  Click here to book online! If you wish to make a specific request to see Camille, please select "Specific Therapist" and her name from the drop down menu.