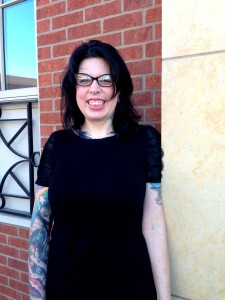 Celeste Brighton has worked in the spa and salon industry since 2007 and is a great resource for our clients on skin care questions.  She is also great at making recommendations for services.  Hairstyling takes a physical toll on the body, so she joined our team as a guest service and front desk assistant in 2014 so she could stay in the industry in a less physically demanding way.  We know you'll love getting to know Celeste through your spa visits!
How long have you been working in spas or salons?
I graduated from LaJames with my esthetics license in 2007 and from Iowa School of Beauty with my cosmetology license in 2011.
Why did you go into the field you are in?
I've always loved the beauty industry and had been doing some make-up work before I started my esthetics training.  The feeling when you make another person feel good about themselves has always driven me.
What is your favorite service to receive?
Massages of any kind!
What is your favorite retail product?
Derma E soothing facial cleanser and microdermabrasion scrub

How do you get involved in your community?
Through being a fairly outgoing person and working in industries where I've been highly visible, I've made a lot of connections.  I like to help people and friends make their events and volunteer commitments a success by giving my time or sharing my knowledge.
What are your favorite ways to reduce stress?
A long, hot bath or just getting away for awhile on my bicycle.
What are your favorite suggestions for clients?
Be yourself.  No one else can do it for you.
What are your favorite wellness resources?
I think mental wellness is important so the websites Upworthy (for instilling faith in the world) or Gawker (because laughter is the best medicine).
Do you have a favorite relaxation or wellness quotation?
Not all that wander are lost.
It would be a shame if I didn't take the opportunity to share what I think is the most fun fact about Celeste with our readers:  She was a roadie for N'Sync in the early 2000s!