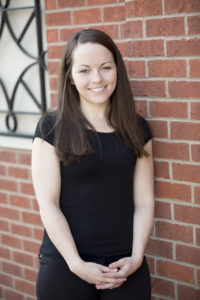 Kristiana Moore is the managing massage therapist at East Village Spa and has been a member of our team since 2013. Her clients love that she's quiet and lets them rest peacefully during their sessions. She's a true professional and has been an industry role model for over a decade.
When did you become a massage therapist?
I graduated from La James in 2007 and became a licensed massage therapist in 2008. I've been working as a massage therapist ever since.
What are your specialties?
I specialize in relaxation, hot stone, reflexology, and prenatal massages. I have advanced training in myofascial release and craiosacral therapy, which I can incorporate into my sessions.
Why did you choose a career as a massage therapist?
I became interested in massage therapy when my sister was in a car accident and part of her recovery was receiving massage. She would come home from a massage and tell me how awesome the session was. I was always jealous I didn't get to go as well!  I thought that having a job that you spend every day making people feel better would be such a rewarding career and I have not been disappointed by my choice.
Describe your massage style in 3 words

Calming, professional, and quiet.
What is your favorite treatment to give?
I LOVE giving hot stone massages. The heat of the stones is so comforting and calming. I can also work deep with the stones without using heavy pressure.
What is your favorite treatment to receive?
I love our EV Signature Facial. I fall asleep every time and my skin always looks and feels great afterward.
What are your favorite spa products?
I love using the Kneipp Juniper bath salts when I'm sore from a hard workout.
What do you do in your free time?

I love traveling with my family! We have traveled all over the United States and hav hiked in France as well. I love exploring our National Parks, we always find beautiful hikes whil we're there. When we aren't traveling, we find hikes and walks around the are to do with our baby. I also love baking and am always looking for new recipes. I'll read anything I can get my hands on!
Why should clients book with YOU?

My massage is calming and nurturing. I listen carefully to your concerns and do my best to customize each session to your needs that day. You can truly relax and let your mind go with me.
What do clients say about Kristiana?

"Kristiana is the ONLY massage therapist I will use. My wife and I fell in love with her and we both love her professionalism and how she helps create a wonderful relaxing environment!"
"Kristiana provides a great massage. She is gentle, yet firm and her quiet manner is incredibly relaxing."
"Kristiana has a quiet presence that welcomes you as you are in that moment. She lights up the room with her smile, and begins to calm your nerves long before she shares her healing touch. Receiving a massage from Kristiana is like enjoying a trip to a heavenly cloud of peace. "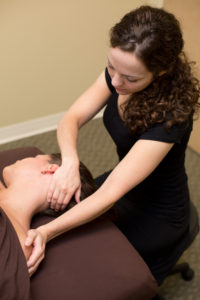 To schedule a session with Kristiana, click here and if you wish to indicate this is a specific request, choose "Specific Therapist" at the top of the page and select her name from the drop down menu of therapists!