Just typing "Hot Stone Massage" makes me melt a bit.  The lovely forecast calling for a high of -3 degrees tomorrow shall serve as my blog inspiration tonight!
A hot stone at East Village Spa is quite unlike the stock photography you see everywhere showing a row of stones sitting directly on a client's back and no therapist in sight. All the photo below is missing is an orchid growing out of her ear.
What clients CAN expect is for their massage therapist to work with his or her hands to assess the muscles and tissue and then massage primarily with heated stones as an extension of their hands.  Our therapists can also do a hybrid of hands-on techniques to address trigger points or specific areas of pain and hot stone massage for general relaxation.
The stones are heated to between 120 and 130 degrees and the therapist is able to safely hold them with bare hands and should keep them moving until they have significantly cooled off before placing them directly on the skin and leaving them. The heat from the stones will help to boost circulation, relax tight muscles, and quiet the mind.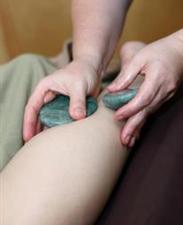 Still not convinced of how awesome a stone massage is?  This video is a perfect little example of some of the techniques massage therapists can use with different shaped warm stones (note, this is not a company we endorse or have used, but their video provides a great example of just some of the many stone techniques a therapist might incorporate.)
As wonderful as hot stone massages are for most clients, there are a few times we don't advise them including for clients who are pregnant, clients who have burns, skin conditions or are undergoing radiation.  People with fragile thin skin or who are diabetic, paralyzed or otherwise unable to sense heat are also not good candidates for a hot stone massage and would benefit more from a traditional session.
A cold week like this one might be the perfect opportunity for you to change up your massage routine and try out a hot stone massage with one of our experienced therapists.  Click here to book yours!