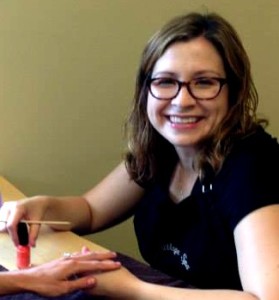 Cassandra Lacina-Griffin has been a wonderful part of the East Village Spa team since mid-2013.  She came to the spa from a resort spa in Tama when she moved to Des Moines to get married.  Cassandra provides skin care, manicures, pedicures, and some waxing services to our guests at the spa and is a wealth of information about our products.
What are your licenses and how long have you been working in this industry?
I have been licensed for over 9 years as an esthetician and nail technician.
What made you decide to pursue a career in skin and nail care?
I have been interested in skin care and products since my teens.  I've always had a love for makeup!  I also enjoyed the relaxing environment that a spa provides for clients and me.
What are your favorite services to give and receive?
I love to give facials and also receive them!  I enjoy getting massages as well.
What is your favorite product at the spa?
Derma E's Very Clear Cleanser is amazing for acne prone skin.
How do you get involved in your community?
I volunteer every Monday morning at Animal Lifeline.  I love helping out and giving the dogs the attention they need and love.
How do you reduce stress?
I do a combination of spending time with my 2 rescue dogs and 2 rescue cats, I try to do some yoga, take a bath, and read.
What is your best skincare advice for clients?
Always wash your face at night and wear sunscreen!
What is your favorite inspirational quote or book?
One of my favorite books is Making Faces by Kevyan Aucoin and I like the quote: "When anxious, uneasy, and bad thoughts come, I go to the sea, and the sea drowns them out with its great wide sounds, cleanses me with its noise, and imposes a rhythm upon everything in me that is bewildered and confused," By Rainer Maria Rilke.
What might clients not know about you?
I graduated from Wartburg College with a degree in Communication Studies and an emphasis in Theater.  While at Wartburg, I designed the makeup and hair for the theater.  I enjoy baking and I like to paint, although I don't make much time for it.  Many already know this, but I love to visit Hawaii!
(Note from Cassie: When we see one of Cassandra's Tupperware in the break room, it is a good day because it means she has brought us baked goods!)
Why should clients visit YOU?
I aim to provide the most relaxation during my services as well as great skin care tips.