Season changes are the perfect time to take a look at your skin care.  Often changes in your skin, like increased oil or dryness act like nature's reminder to re-evaluate your routine!
One of the best ways go deep clean your skin at home is to use a Clarisonic brush daily.  The Clarisonic Mia (available for retail at the spa) cleans 6x more than your hands alone.  The Clarisonic Smart Profile that we use in our EV Signature Facials cleans 11x more than your hands. Many of our employees shared their thoughts on their Clarisonics:
Katie: "I love my Clarisonic because I get a deeper cleanse which makes it so my products can penetrate deeper in my skin so I can receive maximum benefits from them."
Lydia says: "Once a week I like to do an "at home facial" and adding the Mia to my routine is important for a deeper clean because it's hard to do a proper steaming at home so this is a great way to get the job done."
Cassandra says: "I use either the sensitive or acne brush every evening. It helps keep the acne under control and really keeps the blackheads away. I love using it at night because I can feel and see that all my makeup is off!
Teresa: "I have the Clarisonic Smart profile. I use it almost every day. I love the way it's made my very sensitive skin feel and look. The timer and change of pressure with this particular model is very helpful for me. Definitely a Smart purchase!"
Cassie: "I thought the Clarisonic would feel like a chore to use, but because you can keep it in the shower (the charge lasts awhile) it is really easy to use and it is great for helping remove post-workout grime and post bike-ride dirt and dust.  Strangely, I also feel like the gentle vibrations over my sinuses when I use the Clarisonic have helped me stay sinus-infection free for the first winter I can remember in 15 years."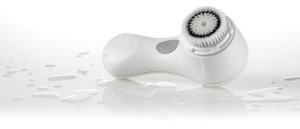 Adding a weekly mask to your skin care routine is also a great way to deep clean pores.  I asked Camille, our treatment manager and Licensed Esthetician which masks are best for which skin types.
For sensitive skin, she recommends the Farmhouse Fresh Pajama Paste to soothe, tighten, even, and hydrate skin.
For maximum age-defying, she recommends either the Farmhouse Fresh Chocolate Sundae Best mask which infuses skin with coQ10 to lift, firm, and tighten, or the Derma E Anti-Wrinkle Mask which uses Glycolic Acid to gently exfoliate the skin, refine pores, and firm skin.
For a deep pore cleanse, choose the Farmhouse Fresh Splendid Dirt mask which is great to unclog pores, or the Farmhouse Fresh Sand Your Ground mask which doubles as an exfoliation treatment.
Lydia, a Licensed Esthetician, suggests that you wash your skin, then apply your mask and leave on 10-15 minutes and remove in the shower.  The steam and shower water will make it easier to loosen the mask.  The easier and more hassle-free, the more likely you will be to stick with it.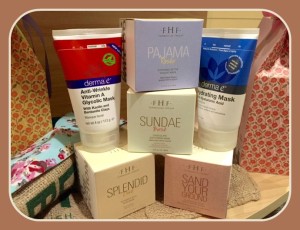 One more great way to deep clean your pores for spring is to book a facial with a licensed esthetican.  In addition to a cleanse, mask, steam, exfoliation, massage, and hydrating treatment, estheticians can also manually extract pores, a gentle way to help unclog pores without causing scarring or infection.  To learn more or to schedule a facial at East Village Spa, click here!