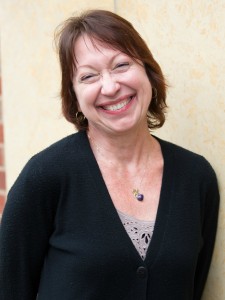 Many of our clients have had the privilege of working with Teresa Sage for their massage therapy visits since she joined our team 3 years ago in March 2012.   If you haven't met Teresa, you should!  She's a gifted massage therapist and her clients (and co-workers!) are lucky to be able to enjoy her enthusiasm for massage and life at East Village Spa.
When did you start your massage career?
This is career #2, and I am fairly new to the industry.  I began taking classes at Body Wisdom at the end of 2009 and received my license in February of 2012.  The next month I was lucky enough to start "living the dream" as a Licensed Massage Therapist at East Village Spa!
Why did you go into this field?
I've been an avid massage client for many years; it is the best stress reliever!  After 25 years in the corporate airline industry, I was ready to pursue my passion for holistic healing full time, beginning with massage therapy and reflexology.  This path has also led me to learning about and learing to give CranioSacral Therapy.  It is not massage, but another powerful healing tool.
What is your favorite service to give?
I love giving people a CranioSacral (CST) treatment.  I love seeing their calm, peaceful faces afterwards.  I love that CST can be incorporated into a regular massage session too.
What is your favorite spa service to receive?
How to narrow it down…I love them all!  I love getting a long therapeutic massage, not to mention how pampered I feel during a facial or pedicure.
What is your favorite spa retail product?
Right now, I'm torn between Derma E's Vitamin A Retinyl Cream for the face and the new Kneipp arnica cream for sore muscles and joints.
What is your favorite way to reduce stress?
A glass of red wine and dark chocolate, getting a massage, long walks in the woods, hot aromatherapy baths, and of course, going home to kitty cuddles!
What are your favorite wellness resources?
I love the magazine Massage and Bodywork and I think everyone should read Dr. John Upledger's book, Your Inner Physician and You.
Do you have a favorite wellness quote?
"Sometimes I sits and thinks, and sometimes I just sits." ~Satchel Paige
Do you have a special talent people might not know about?
I make delicious apple pies (editor's note: Her co-workers have yet to be treated to one of these delicious desserts!)
Why should clients visit YOU?
I love what I do, and I can tailor your session to whatever you tell me you need at the time…pampering, therapeutic, deep tissue…we can talk or we can be quiet (quiet allows for more healing, though).  I follow your lead, it is your session and I hope I can help.