Our awesome summer intern, Alyssa, has had her final "Spa Newbie" experience with us, the CND Shellac Manicure.  We feel like she's graduated to spa expert status over the summer and will miss her! Here's what she had to say about her manicure:
*****
I have had my fair share of manicures at the local spas.  I don't normally like up keeping my own nails, so when I got the chance, I would find myself getting a gel-polish manicure.  Every place I had been to, I felt as if I was sitting in the chair for hours.  By the time I walked out of there, I wondered why I even went.  At that point in time I wasn't too thrilled going to the salons anymore.  I felt like I exhausted my limits and decided it was something I could do on my own.
I went out and decided to go buy my own imitation "shellac" kit.  At first I thought it was the greatest thing in the world.  I could paint my nails once a week and I wasn't concerned about money and the time spent at a salon.  Eventually, I noticed that my cuticle beds were no longer healthy and my nails in general were in very poor shape.  My manicure polish would only stay on for 3 days maximum.  I have tried dozens of times to fix this but never have been able to make it last very long.  I haven't pulled out my kit in almost 4 months now.  I will bring it out occasionally to give myself a manicure before a weekend trip.  I do not think I will ever be pleased with my own at-home manicures.  They never have that professional look.
I had the pleasure of receiving a CND Shellac manicure from Hannah.  She did not use any products or water first and did a dry manicure.  This included shaping the nails, pushing back the cuticles etc… Then she applied a base, two layers of color, and then the top coat.  Then she used an alcohol cloth to remove the sticky layer.  The last step was applying the Solar Oil on my cuticles to make sure they were nice and moisturized.  I chose a bright pink shade that seemed fitting for the summer.  I was very surprised how easy she made it look and how fast it was to accomplish a great shellac manicure.  This was the perfect amount of length for me to be able to enjoy it to the fullest.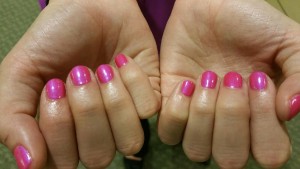 I never had been to a place where there was CND shellac before.  This is a non-gel which doesn't damage the nails like all the other polishes out there.  I have found that this is one of the best polishes that I have come across and wouldn't go back to any other brand.  It has been over a week now and it looks just as good as it did when they were first done.  With my always on the go lifestyle, I found it amazing that I haven't had one chip yet.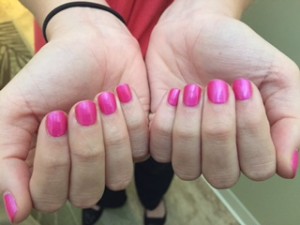 I am very impressed with my manicure and 110% would recommend it to anyone and everyone.  The quality of service I have received with each individual service since being here at East Village Spa, has been superb.  Everyone here is so professional and makes you feel cared for.  I have been to no place like it and I'm not sure I could ever go back to the places I had gone to in the past. I'm a big fan.
*****
Best wishes to Alyssa and we'll look forward to meeting future interns and introducing them to the spa!