I'm a sucker for holiday cookies, candies, bars, you name it.  I also love finding recipes for healthier versions of said treats to find  perfect recipes to please diverse crowds, from those who love decadent desserts to people who are vegan, gluten free, or have other dietary limitations.  This year, I decided to make several healthier versions of classic holiday cookies to serve at our Holiday Promenade event, along with recipes, to inspire others to be creative.
Sometimes my experimentation leads to hilarious cookie fails.  Last night one of my cookies had maybe one-too-many healthy substitutions and was deemed by my taste testers as "So bad that if you serve this at Holiday Promenade, you will RUIN Holiday Promenade."  My husband even asked if I made it with potatoes. This explains why my dog that eats anything in sight didn't try to get the pan off the counter.  And I just thought he was being good!
To save our Promenade guests from fails or substitution headaches, I'll only be serving really yummy treats taste-tested by my picky friends made with easy-to-fi
nd ingredients.  This is one of my long-time favorites: Healthy Pecan Sandies.
Pecan Sandies (Gluten Free, Vegan, Paleo, Possibility of being raw)
Ingredients: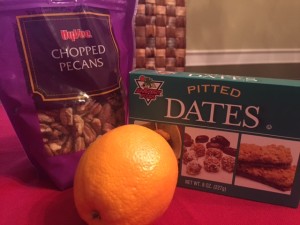 1 c. pitted dates
2 c. chopped pecans (use raw if making this as a raw cookie)
zest of half an orange.
Preheat oven to 325 degrees.  Line a baking sheet with a piece of parchment paper.  Process pecans in a food processor until finely ground.  Add pitted dates and orange zest.  Process until the mixture starts to pull away from the side and makes a coarse "dough"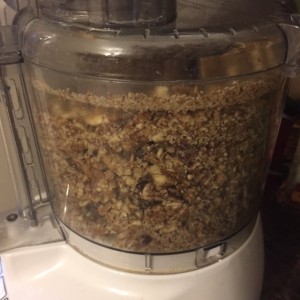 Roll into walnut sized balls on prepared cookie sheet and press a pecan half into each while flattening slightly.  They can be placed close together as they will not spread while baking.  Bake at 325 for 12-15 minutes or until bottoms brown slightly.  Cool before eating (or they'll fall apart!)
To make a raw version, make sure you purchase raw pecans (easy to find in health food stores or Trader Joes) and don't bake your cookies, but prepare them and freeze in a single layer so they hold their shape.  Eat out of the freezer as they'll crumble as they warm to room temp if you haven't baked them.
Stay tuned for more healthy holiday treats recipes this week!