Yesterday I shared my favorite healthy holiday cookie, a vegan, gluten free, paleo friendly Pecan Sandy.  Today I'm going to share yummy and healthier version of chocolate bark and buckeyes.  Both are easily customized to your preferences too!
My friend Renae shared with me her favorite monster cookie protein ball recipe.  It was easy to adapt into a protein ball that was healthier, AND to dip into dark chocolate for a buckeye that had lots of protein and fiber, win-win!
Protein Ball Buckeyes
Ingredients:
1 c. old fashioned or quick oats
1/2 c. natural peanut butter (I use one of the easier-to spread versions like Jif)
1/4 c. honey (local if you can-if making vegan, you can use agave)
1 scoop vanilla whey powder (if making vegan, look for a vanilla flavored vegan protein powder)
1/3 c. ground flax seed/chia seed blend or 1/4-1/3 c. flax or chia seeds (optional)
Dark chocolate for melting and dipping (I used the large dark chocolate bars from Zoet, found at Hyvee)
Combine all above, I found that starting with the peanut butter and honey, then adding the dry ingredients a bit at a time was best. If you can't quite get them sticky enough to form a ball, add a bit more peanut butter or honey at a time.  You'll need to mix with your hands eventually.
Roll into balls, then place on waxed or parchment paper.  To be honest, they are delicious at this point without being chocolate dipped.  You can store then in the freezer for a quick protein snack or breakfast this way or continue with the next step.
Melt chocolate squares in microwaveable bowl about 30-45 seconds at a time and stir each time until just melted.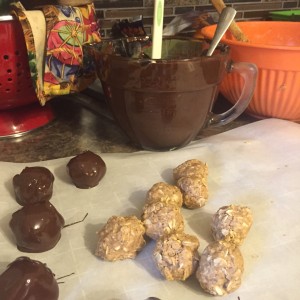 Drop a ball into the chocolate and roll until it is covered, then remove with a spoon and place onto the wax paper.  Do this until all protein balls are covered in the dark chocolate, stopping to re-soften the chocolate or add more squares as needed.
Place into fridge to harden faster.
Store in fridge or freezer, depending on how quickly you'll eat these.  (Warning, it might be pretty quick-I had to tell my husband to back-off because they were so good).
While these protein buckeyes do have more fiber, nutrients, and protein than regular buckeyes, do note they are certainly not low calorie and are ideal for active lifestyles or a grab and go breakfast replacement!
Be sure to visit the spa this Friday for the Holiday Promenade to sample these and a few other holiday cookie healthy makeovers! 🙂