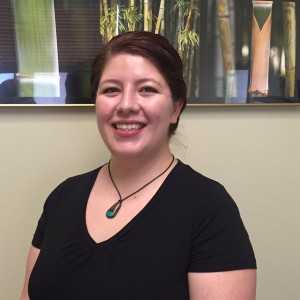 We are happy to introduce you to our newest team member, Camdine (Pronounced "Cam-den," she also goes by "Cami") Cox, Licensed Massage Therapist.  Camdine joined our team in February 2016, but her massage career started long before we were fortunate enough to cross paths!
How long have you been in the industry?
I have been a licensed massage therapist since 2009
Why did you go into massage therapy?
I have always loved helping people and making them feel better.  When I was little, I used to massage clients' hands at my grandmother's beauty salon  while their hair dried.  I love cooking and took a year of culinary school at DMACC but realized I'd be working odd hours in the culinary field.  I got my massage license to help work my way through college, but I fell in love with it!  I love being able to take away someone's pain and get them back to what they love doing.
What is your favorite service to give?
My favorite massage to give is the sports massage.  I have learned a technique from Dr. James Mally that he refers to as "pin and stretch." It allows me to work with tight, shortened muscles using range of motion and pressure.  I have found this approach very effective.
What is your favorite spa service to receive?
My favorite massage to receive is the hot stone massage.  One stroke with the stone is equivalent to seven with the hand.  It allows the therapist to work deeper faster and without having to use as much pressure.
What is your favorite retail product?
The Farmhouse Fresh honey glaze.  It smells amazing and works great on dry skin.
What is your favorite way to reduce stress?
I love to get lost in a book or listen to music.
What are your favorite suggestions or tips for clients?
Drink your water and stretch everyday.  You should drink your body weight, divided in half, in ounces of water daily.  Every night when you sleep, your body builds additional connective tissue over your muscles.  This binds you up and makes you stiff.  Stretching and massage helps to break this up.  You should stretch when you wake up and before you go to bed, ideally.
Do you have a special talent people might not know about?
I like to make jewelry and I can speak Spanish and French
Why should clients visit YOU?
I focus on relieving the cause of pain and stress through sports, prenatal, and hot stone massage.
To book a massage with Camdine, click here!