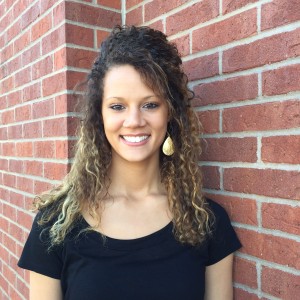 We are pleased to introduce you to the newest member of our team, Tisha (pronounced "Tee-sha") Knight, a licensed massage therapist and esthetician who will joins us as a full time massage therapist in March.  She has a great style to help calm and relax guests and we know that our clients will love working with her!
How long have you been in the industry?
I have been a licensed massage therapist since 2014 and just got my esthetics license in 2016.
Why did you go into massage therapy?
I have had a passion for helping others from a young age. I started my schooling in the beauty industry with the intent of doing esthetics.  They provided a dual program opportunity with massage and esthetics, so I thought Why  not?!  I decided to start first with massage and I was in love with every aspect.  It was definitely a match.
Just last year, I actually came across a letter to myself from 1st grade consisting of "What do you want to be when you grow up?"  Having no idea what I could have written at that age, I was surprised to see that "Massage therapist" was listed at number two!
What is your favorite service to give?
Right now, the EV Signature Massage.  The honey heel glaze smells amazing and it is fun that you can use it to exfoliate and soften any area of the body, not just heels.
What is your favorite spa service to receive?
That is a tough question! Any sort of massage.  Feeling my muscles and tissues being manipulated and stretched in ways that I can't accomplish myself through yoga/exercise is just amazing.  My strong second choice is facials.  I love that feeling of having such a "fresh and clean face" and you also get deep relaxation with your facial service.
What is your favorite retail product?
So far, the Farmhouse Fresh Coconut Beach Scrub.  I love the gentle exfoliation but also moisturizing benefits.  I love using the scrubs on my feet with my foot file.  I'm looking forward to learning more about and starting to use the Rhonda Allison skin care line.
What is your favorite way to reduce stress?
Yoga, walking, being outside in general, listening to music, and of course getting a massage or facial whenever possible!
What is your favorite suggestion for clients?
Stretching consistently, whenever you can.  Stretching is especially important in the morning, after sitting for longer periods, and before bed.  I've experienced amazing benefits from yoga.  I love, love, love yoga.  Finally, drinking water.  Too many people odn't drink enough water and it is one of the most important parts of our health and being alive!
Why should clients visit YOU?
I enjoy understanding and executing whatever it is that each individual would like me to focus on .  I love being able to vary my treatments, provide therapeutic benefits, and most importantly offer my clients what they are looking for in a massage.
To book YOUR appointment with Tisha, click here and schedule online!  She is currently providing our Wellness, EV Signature, and Seasonal Special massages.