We are thrilled to present plans for Mother's Day 2016!
Momosa Day: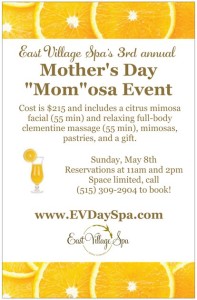 The Spa will be hosting our 3rd annual "Momosa Day" event on Mother's Day, Sunday May 8th.  Guests will enjoy a relaxing full body clementine massage and a mimosa facial (55 minutes each), plus pastries, a mimosa bar, tea, and a gift.
Cost is $215 and includes treatments, tax, gratuities, and goodies.Space is limited to 12 guests and openings are available at 11 am and 2 pm.
Call (515) 309-2904 to schedule mom's most relaxing mother's day ever!
Mother's Day Gift Card Sale:
For the first time, we're offering our popular holiday $20 treatment voucher program for Mother's Day!  For every $100 gift card purchased in the spa (not valid with online gift cards)  from April 25-May 8th, 2016, you'll get a $20 voucher good toward weekday spa services June-September, 2016.  These vouchers work similarly to the vouchers we offer each year in December.  Stop in for more information!
We're having a fun party to kick-off our first Mother's Day Gift Card Voucher sale on April 25th from 5-7!  Click here for more information!
We hope to see you at the party or stopping into the spa to pick up a gift for mom!