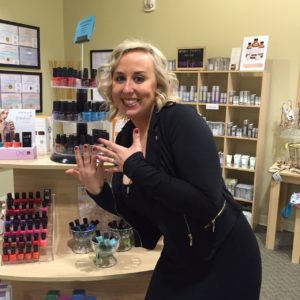 Casey, one of our amazing Guest Service Assistants, was fairly new to spa services when she started with us, but she's been enjoying "sampling" all of our services and will be contributing to the Spa Newbie section of our blog.
From Casey:
Being a newer employee working the front desk at East Village Spa, I have the opportunity to be the practice "body" for our awesome service providers to try out services they haven't performed at the spa.  My most recent endeavor was getting to be a practice body for three of our newer team members to learn about our Gong Fu Chai Body Scrub.
Before working at the spa, I had personally never heard of a body scrub, as I'm new to the spa scene.  After taking part in the training session, I know know that the service entails a stress-relieving and circulation massage, while incorporating the Gong Fu Scrub.  The therapists alternated between a body oil application and the scrub.  I absolutely loved the difference of feeling a smooth rub, followed by a coarse rub, and finished with a warm towel.  It as more relaxing than I ever anticipated.
After the service, my skin was noticeably softer.  Any anxiety I had felt when we started had completely faded away.  Although it is not a deep tissue massage, I still felt my body and muscles had relaxed as well.  I would recommend this service to anyone wanting to relax and have their skin exfoliated at the same time.  It is definitely something I will schedule for myself again!
To learn more about our Gong Fu Chai Scrub, check out our You Tube Video where Hannah demonstrates elements of the scrub on one of our employees.  The scrub treats skin on the back, arms, legs, and feet and can be upgraded to include a 30 minute facial or 30 minute focused back massage.
Book your Gong Fu Chai Scrub online here!