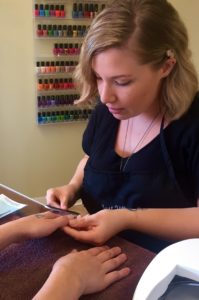 Cori Hugins, licensed cosmetologist, joined our team in July 2016 to provide safe and relaxing manicures and pedicures.  We're excited for you to get to know her and are confident you'll enjoy her as much as we do!  As a fun bonus, Cori has also attended massage school so the hand and foot massages she gives in her nail sessions are amazing!
Why did you go into this field?
To heal people and make others feel like their better selves. It's a very rewarding career when you are able to have fun and help people at work!
What is your favorite service to give?
I enjoy pedicures and making your toes look beautiful!
What is your favorite spa service to receive?
I absolutely love facials! They're relaxing, yet I know my face is being cleaned, and cleaned right!
What is your favorite way to reduce stress?
Yoga! I feel at least 10-15 minutes of yoga a day can reduce stress and tension in your back, shoulders, and wherever else you may be feeling uncomfortable. Breathing is a big one for me.  Take the time to just stop, relax, and breathe.
Do you have a favorite relaxation quotation?
"Smile and the world will smile back." Whenever I"m feeling down or stressed, I think of this and live by it.  It makes me feel better knowing I may be impacting someone's day, no matter how small, in a positive way.
Tell us a fun fact about yourself
I'm a HUGE astrology nerd!
Why should clients visit YOU?
I'm caring, a great listener, and will give you an excellent service.  I will make sure to give you the nail service that is exactly what you are looking for.
To schedule a relaxing manicure or pedicure with Cori, click here to book online!