Awhile back, a client asked me to blog on things that clients are too embarrassed to ask their massage therapists and wanted me to ask our therapists what they are *REALLY* thinking during potentially awkward situations.  Here goes:
Q: Do you prefer clients rest with their eyes open or closed when they are laying face up?
A: Closed! 100% vote closed. If your eyes are open, we worry you'll be looking up our nose when we're doing neck work and when we are doing a relaxation style massage, most of the time we're in a zone and it is awkward if someone stares at us.
Q: Should I shave before a massage? Will you judge me if I don't?
A: We don't care. Honestly. We don't shave for each other.  I personally say "Why should I shave my legs for my massage therapist if I'm not going to shave them for my husband?" Also, we are totally fine massaging people who have back hair. We'd far prefer to massage someone with a hairy back than someone who just attempted to shave their back and has cuts and ingrown hairs we need to work around.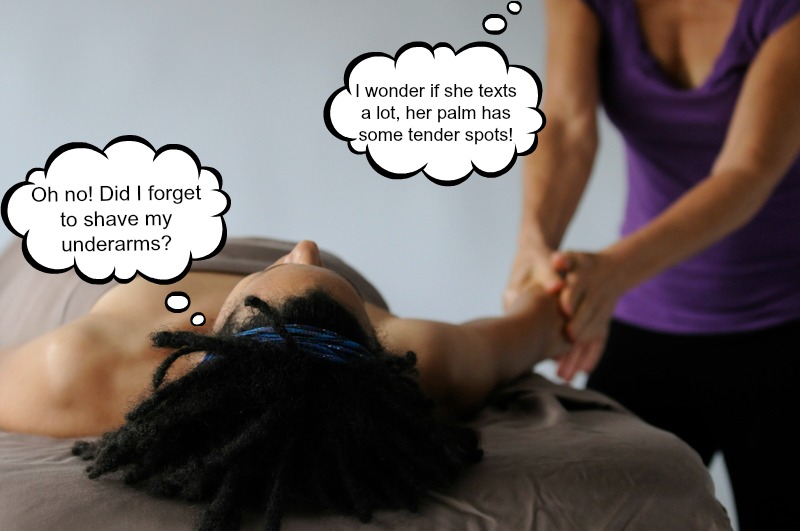 Q: My feet are gross, will my therapist judge me?
A: Most of us are in need of a good pedicure.  Don't stress about chipped nail polish, calluses (shoot, runners and walkers NEED calluses!), or cosmetic issues. Feet are feet. They contain 26 bones, 33 joints and over 100 muscles/ligaments/tendons.  Things are bound to be wacky!
Q: I'm breastfeeding, what happens if I leak?
A: Don't worry! We LOVE pampering new mamas.  We have plenty of towels, don't be afraid to ask for one. We also have many tables that have breast cut-outs that are softer so please feel free to mention this at booking so we can ensure you're scheduled in one of the rooms with cut-outs.
Q: What happens if I pass gas?
A: We won't mention it if you don't! And it just means you're relaxed. We won't go telling everyone because we likely won't remember it by the time the session is over. P.S. Your therapist is afraid of passing gas during your session too!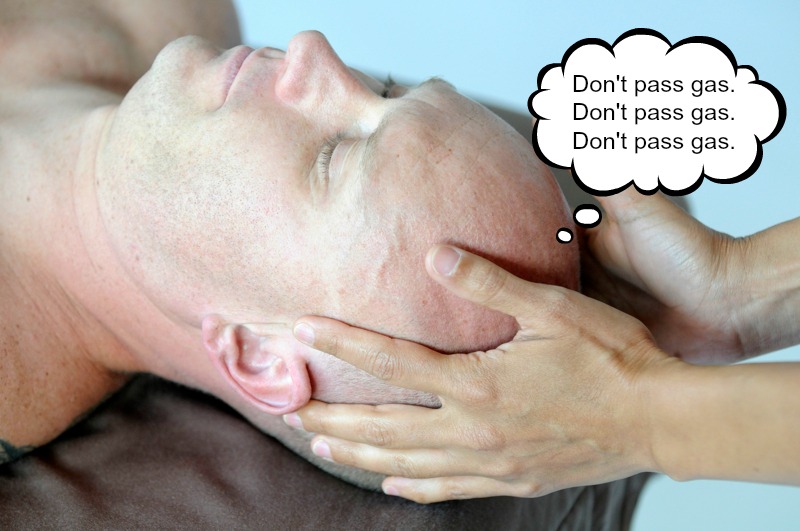 Q: Do male clients ever get an erection?
A: Sometimes, it is natural. Usually the client is asleep and I'm guessing they don't notice it. We prefer that if it happens, our client doesn't bring attention to it. We certainly will not point it out.  We use sheets and a thick blanket for modesty. Please do not let this fear keep you from getting a massage.  Like passing gas, it is one of those things that if you don't mention it, your therapist will have forgotten it by the time the session is over.
Q: What does "Undress to your comfort level" really mean? What does my therapist prefer?
A: We are fine with underwear off or on.  It is best if women remove bras.  If men leave on *longer boxers, we aren't able to do some kinds of massage on the upper legs. If women have brief shape wear style underwear that go up farther on the back, it will make low back work trickier, but we can work around anything.  Glute work is easier sans undies, but if it makes you uncomfortable, please keep them on!  I'd say personally my clients are about 50/50 everything off/underwear on.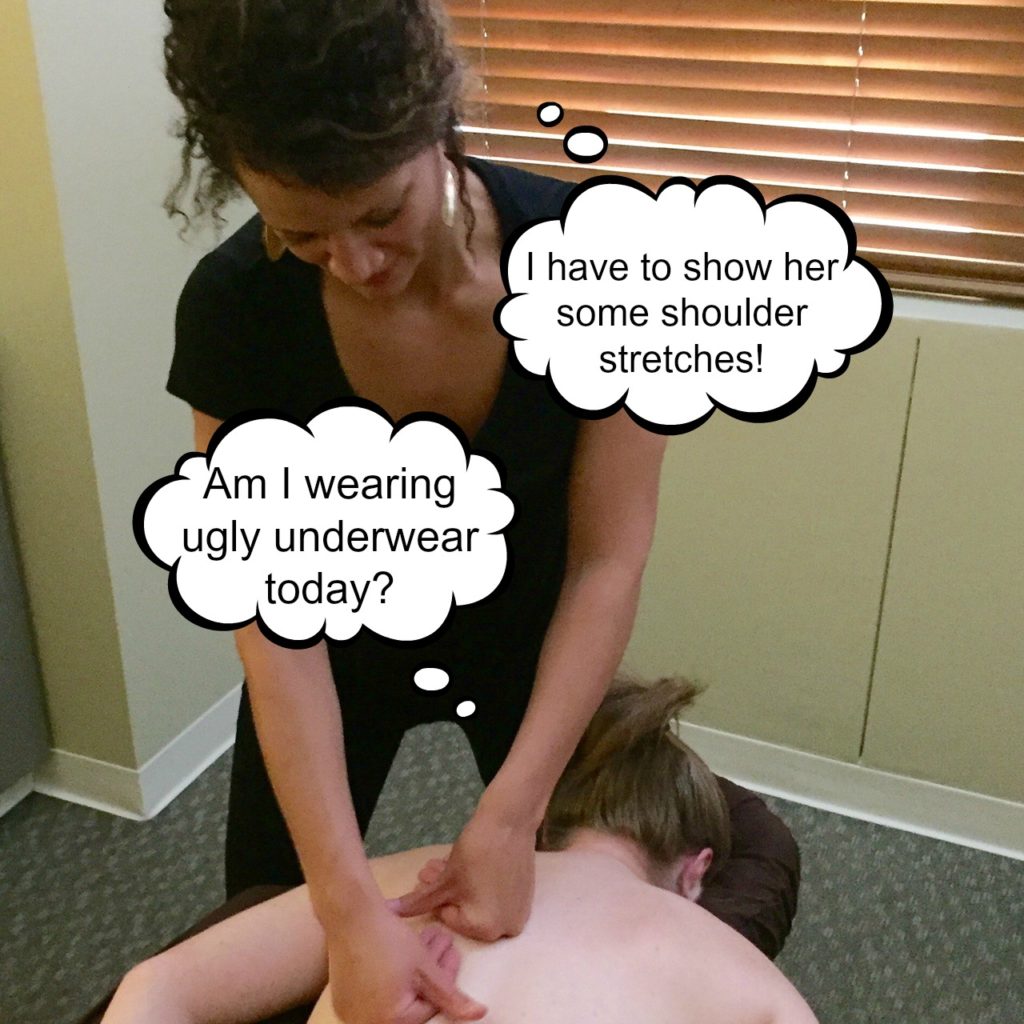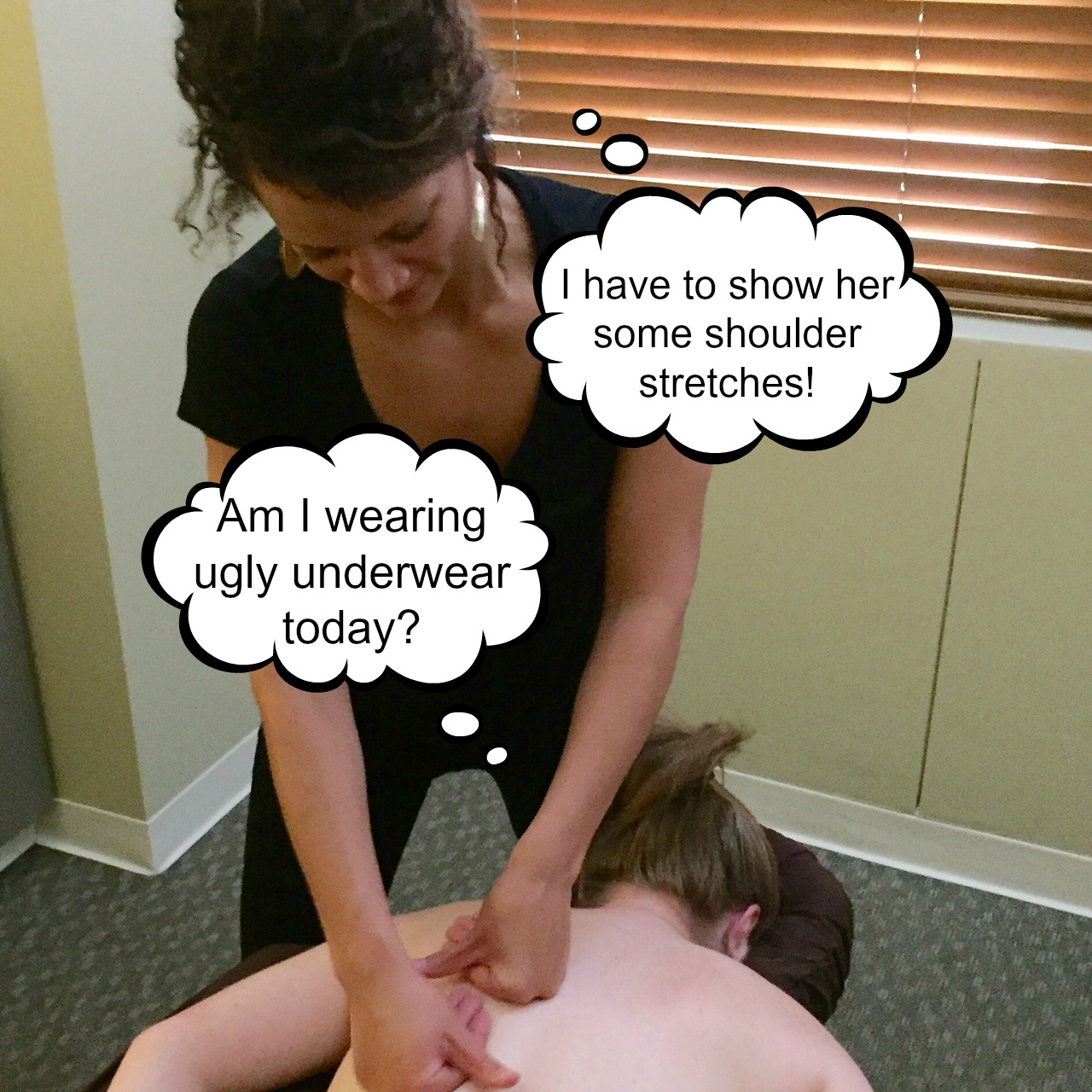 Now that we've hopefully put your fears to rest, it is time to book your massage at East Village Spa! You can learn about our services here and when you're ready to schedule, call (515) 309-2904 or book online!