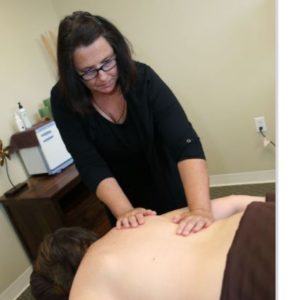 Julie Accola joined our massage team in 2016.  She has spent much of her professional career as a Registered Nurse, so massage is fun addition to her healthcare work. She continues to provide nursing care in-home to children and is assisting our spa guests a few days a month and as needed, filling in for bigger groups, maternity leaves, or special events.
Julie has a great sense of humor and is frequently joking about her "big peasant hands" which provide an AWESOME and nurturing massage.
When and where did you receive your training?
I received my massage license in 2014 after graduating from Body Wisdom School. (Julie has been a registered nurse since 1998!)
Why did you go into this field?
To relieve pain for people without a doctor's order or a possible addiction to pain medications.

What is your favorite massage service to give?
I love doing head and neck massage and including Acupressure (Jin Shin Do) in sessions. I'm comfortable assisting guests who have complex medical needs due to my nursing background.

What is your favorite service to receive?
The same! I love facials and pedicures too now!
What is your favorite spa retail product?
The Kneipp sleep and pain relief aids work great without side effects. I drink my Pure Inventions Tranquility tea at bedtime too.
Tell us something interesting about yourself:
I come from a very large family, the 9th of 12 kids raised on a dairy farm.  I'm a karaoke queen waiting for NASCAR to call…lol (Did we mention that Julie is hilarious?). I love time with my grand kids as well.
Why should clients visit YOU?
I have excellent assessment skills. I work with medium to firm pressure and can target your specific areas of concern.
What do guests say about Julie?
"Julie was absolutely wonderful! I recommend her hands down for any massage needs you may ever require. She had purpose behind every touch. Her hands are truly magic. She gave me a bigger gift than I'm sure she will ever realize. I left relaxed and beyond satisfied with the services she provided me."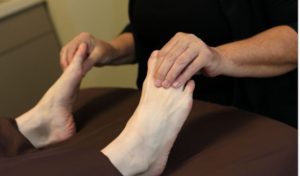 Please note that Julie has a limited schedule as she typically only works 2-3 days/month or fills in on short notice. If you would like a recommendation for a therapist with a similar style to Julie's please call us at (515) 309-2904 or e-mail EVSpaDesk@gmail.com.