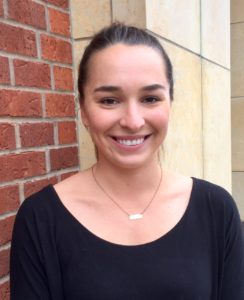 Thank you for helping us welcome Molly Ihde to our team! Molly joined our team in 2016 and has been a great addition to our sports and deep tissue therapists.  In addition to her passion for deep tissue and athletic massages, her Aveda training helped her develop a place in her heart for relaxation and spa therapies like our Gong Fu Chai scrub, which she loves doing!
How long have you been in the industry?
I graduated from the Aveda Institute in 2015 and have been working full time as a massage therapist ever since.
Why did you go into massage therapy?
I became a massage therapist because I have an interest in health and wellness, specifically in sports therapy and preventative care.
What is your favorite service to give?
I enjoy athletic massage and deep tissue work.
What is your favorite spa service to receive?
I love our Gong Fu Chai scrub because the Farmhouse Fresh Clementine oil smells amazing and my skin feels so smooth afterwards.
What is your favorite spa retail product?
Unfortunately, I haven't tried everything yet, but some of my favorites are the Farmhouse Fresh face masks, Sweet Cream Body Lotion (we use this in the EV Signature Massages), Rhonda Allison Ultra Hydration Lotion and Farmhouse Fresh Plum Chiffon Balm.
What is your favorite way to reduce stress?
When I'm stressed, I like to go for a run, do crossword puzzles, read, or listen to podcasts.
What is your favorite self-care suggestion for clients?
I'm a huge fan of foam rollers and lacrosse balls for more specific trigger point relief. These tools are probably the closet thing you can get to deep tissue and broad pressure body work at home and a great habit to get into between appointments.
Do you have a favorite relaxation or stress relief quotation?
"Our bodies communicate clearly and specifically, if we are willing to listen." Shakti Gawain
Why should clients visit YOU?
I really work hard and do everything I can to be a positive part of someone's day. If my client leaves with a smile and even just a little bit better than when they came in, I'm happy.
To schedule a massage with Molly, click here or call (515) 309-2904. If booking online, be sure to select "specific therapist" and choose her name from the drop down menu if you wish to make a request to see Molly.