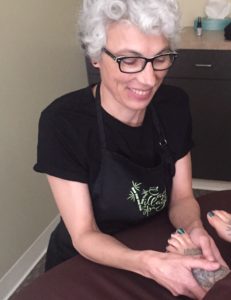 Conny Beard joined our massage team in 2017 and as a native German, brings a unique perspective of massage and wellness to her clients and colleagues. In addition to providing massage therapy at the spa, Conny creates Glen Echo line of body care products including her signature herbal salves. These products are available in our retail shop.
When and where did you receive your training?

My interest in massage started over 20 years ago in Germany. I'm certified in Foot Reflexology and Therapeutic Massage in Germany along with Shiatsu and Infant Massage. After moving to Iowa I attended Body Wisdom Massage Therapy School and received my license to practice here in 2017. In Germany received my Masters of Material Science in 1992 and worked as an environmental engineer
What are your specialties?
Foot reflexology, "Crazy good neck work," relaxation and hot stone massages..
Why did you go into the massage therapy field?
My mom was a pediatrician all her life and exposed me to a lot of gently healing methods. One of it was gentle touch and just being present for someone in need. I think that sparked my interest in massage.
Describe your treatment style in 3 words:
Relaxing, Flowing, Detail Oriented
What is your favorite service to give?
Hot stone massage; it is very relaxing and the heat of the stones lets muscles melt like butter.
What is your favorite service to receive?
The 80 minute EV Signature Massage and a 30 minute foot massage.
What is your favorite retail product?
Since I'm a native German I love the Kneipp products, especially the salt. As child I suffered from severe asthma and attended a 6 weeks cure in a salt mine. It was hard to be away from home for so long as a 6 year old but it healed me completely!
What do you enjoy when you are not at work?

I love traveling all over the world, art, cooking, and hiking.
Why should clients book with YOU?
I'm a good listener and try to customize my massage as much as possible.
What are clients saying about Conny?
"Conny has been very caring and takes time to understand what my concerns are. I was also getting a massage one day and Conny was acknowledged for taking extra massages for a co-worker who was sick. I saw that Conny really cared about her career and others. She is wonderful!"
"Conny is amazing at what she does. Her knowledge of how the muscles work, how to ease them, and essential oils is vast."
"Conny is a great listener, asking all the right questions to know how to treat her clients during a service. She helped me with back issues by asking the questions to get at what was causing my pain."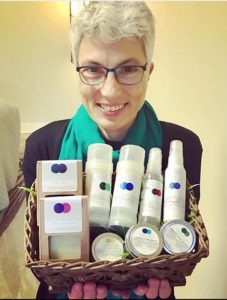 If you'd like to schedule a massage with Conny, click here and choose "Specific Therapist" and her name from the drop down menu!