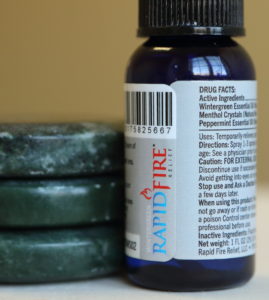 Rapid Fire, locally developed and produced pain relief spray and roll-on products, have been gaining popularity in Iowa in recent years. In fact, Rapid Fire works so well that when our massage therapists attended a conference last year, they all came back begging me to replace our long-time, big name (that I shall not mention) pain relief spray with Rapid Fire. I dragged my heels for a bit, but kept stealing sprays from their Rapid Fire for my own aches and pains so I figured we needed to have this awesome product at the spa since it was what we were all using, even though we had shelves full of another product that was easily available. Here's why we love it:
Headache relief: This stuff is potent, so if you're using it for headache relief at the temples, apply a tiny amount to your finger tips first, then massage into your temples and scalp. If your pain is at the base of your skull, feel free to spray or use your roll on. Be sure to wash your hands after touching it so you don't get it in your eyes!
Pure ingredients: Rapid Fire is made with wintergreen, a natural form of aspirin, peppermint for a counter irritant (to draw your attention away from underlying pain), spearmint and camphor which are analgesics (numbing agents). The active ingredients are blended in coconut oil which slows the absorption so it lasts longer than most products. It doesn't contain alcohol found in many drug store pain relievers because alcohol makes the effect wear off faster.
It passed the "Disney Test!": Kelly suffers from horrible migraines and she swears that Rapid Fire is how she survived long days at the park on the rides, standing in lines, and walking for miles.
It reduces soreness after deep pressure massages: If you feel like you need firm pressure to enjoy massage but experience soreness the day after, ask your massage therapist to use a spray of Rapid Fire over the area he or she worked to reduce inflammation and the likelihood of pain the next day. (As an LMT, I'd be remiss if I didn't add that you can also ask your therapist to use less pressure, but we know not every client is cool with lighter pressure, though sometimes reducing the pressure a bit is more effective!)
It is locally crafted by an individual who is incredibly passionate (maybe even a bit intense) about pain relief: Kevin Burns, a central Iowa MMA fighter, created an essential oil blend to help with his own pain, but quickly found himself helping other fighters. Eventually his business was born. There is something really satisfying about using a product that is so passionately and whole-heartedly backed by the person who created it, especially when the product actually works as well as he claims it does. Learn about Kevin and the company here.
In pain? Book a massage! Before your service starts, ask your massage therapist to grab a bottle of Rapid Fire to use on any sore areas. In a hurry? Stop in and ask our front desk to let you sample the product to see if it is the right pain reliever for you!