Our nail technician (and esthetician) Hannah shared her top 7 tips to keep your CND Shellac manicures looking great this summer (and tips for what to do if you get a chip).
Oil! Lots and lots of cuticle oil.  
Apply cuticle oil to your shellac manicure at least once a day to improve your manicure's longevity.  When the nail bed becomes dehydrated, your shellac is more likely to chip off.  Bonus: Keeping cuticle oil on the skin around your nails will also reduce the likelihood of getting hangnails and dry skin surrounding the nail.  We recommend CND Solar Oil which is made from Jojoba and Sweet Almond Oils to nourish the skin and nail.
2. Keep away from Harsh Chemicals
Not only can harsh cleaning agents and chemicals dehydrate your nails, but they can also change the chemistry of your shellac.  Some shellac colors may change slightly when exposed to cleaning agents, or even melt a little!  We recommend wearing thick cleaning gloves to protect your manicure, as well as rinsing your hands with soap and water, and finishing with lotion and cuticle oil to maintain a beautiful manicure AND a clean house.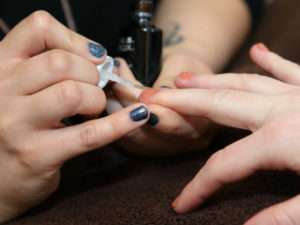 3. Water Exposure
We love fun in the sun as much as anyone else, and CND Shellac is the perfect product for a manicure that outlasts the sand as well as the water.  However, when our nails absorb water, it causes them to expand and contract just the same way a wet sponge does, which can lead to peeling.  So should you go to the beach in latex gloves?! As much as that would be a sight to see, we just recommend washing your hands with mild soap and water after you are done swimming to wash away the excess chlorine or salt. If you know you're going to be swimming a lot, let your nail technician know, and we have a few tricks up our sleeves! Remember to always re-hydrate your nails with cuticle oil at the end of your beach or pool day.
4. Stay Hydrated
You've heard it before and you'll hear it again, make sure you are drinking plenty of water which hydrates the nail from the inside out, and assists in keeping the nails from splitting, cracking or peeling.
5. Treat Your Nails Like Jewels-Not Tools!
Many times shellac chips or peels it's because we are treating our nails as tools.  This is admittedly a very hard habit to break, and it's something I personally am VERY guilty of. Use caution when opening soda cans, peeling stickers or price tags off of new items, and even doing dishes.  Again, here is where a pair of rubber gloves can seriously be a great investment in the kitchen.
6. Gardening
I just love when the spring and summer comes here in Iowa, the flowers start blooming, and I can grow fresh produce in my yard.  Unfortunately, with gardening comes WEEDING. Gardening gloves are an absolute must for the gardener who also loves their manicure!  Bonus: Adding a layer of latex surgical gloves underneath your gardening gloves is a great barrier option for keeping dirt and debris out from under your nails.
7. Always Remove Your Shellac Properly
CND Shellac is the only true non-damage long wearing manicure on the market.  That being said, improper removal can ABSOLUTELY damage your nails! My goodness is it satisfying when a corner of polish lifts up and you can slide the whole fingernail's worth of shellac off in one lovely sheet.  However, this often takes layers of your actual nail plate along with it, and weakens your nails.  If this does happen to you, it's best to give your nails a few weeks to recover before trying another shellac manicure, and make sure you are using plenty of Solar Oil and lotion daily.  Shellac that is applied to compromised nail plates is at risk for peeling and chipping sooner than when it is applied to healthy nails.  Remember to schedule an appointment to have your shellac soaked off by your nail technician 2-3 weeks after application! Worst case scenario, click here to see our video on removing it safely yourself at home.
So you tried your hardest and still had a chip?  Here are your best options:

If the whole manicure to be re-done or just removed, call the spa and book a removal with us! A stand-alone appointment for removal usually only takes us 15-20 minutes, and we would love to assist you in removing them properly.

MOST of our shellac shades are also available in CND Vinylux  corresponding colors! So if you are worried about chipping, purchase a Vinylux color for touch-ups on the go.

If your chip is just on the edge of your nail, trim the edge of the nail where the chip is, and file lightly with a high-grit nail file like the one we offer you at the end of your manicure.

If all else fails and you end up losing a nail of your shellac manicure try rocking an accent nail by covering the chipped polish with an accent color of your choice! 
Ready to book your Shellac manicure? Click here to schedule with Hannah or any of our great nail technicians! They are all a wealth of information and ideas on nail issues and look forward to your visit!