After a few weeks of 60-degree "winter" weather, I think we can't complain about the cold and wind we've experienced the last few days. I personally can tell I'm due for a change in my skin routine. My hands are cracking and my lighter moisturizer just isn't cutting it for my face.  Our Managing Esthetician, Camille Arbegast, shared some tips for changing up your skin and body care routine to account for colder, dryer temperatures and less time in the sun.
HYDRATE YOUR SKIN
Rhonda Allison Ultra Hydration Cream: This is by far our #1 best selling product when the weather gets cold and windy. This moisturizer uses the purest form of Hyaluronic Acid which can increase the skin's moisture by 300%. The best thing about this moisturizer is that it doesn't feel super heavy and leaves the skin feeling nice and smooth.
Rhonda Allison Cucumber Spritz: This product is great all year round, but in the winter when skin tends to feel "tight" from dryness, especially in stuffy offices, a mist of the cucumber spritz throughout the day will help you feel more hydrated. Plus, it is a good way to perk you up in the middle of a work day!
Rhonda Allison Drops of Essence: These hydrating drops are a healing, heavy serum that will help to soothe chapped winter skin with high concentrations of lavender and geranium essential oils. They can be effective for skin burns (including wind burn), cold sores, and even help with the appearance of scars.
REVERSE SUMMER DAMAGE
Winter is the perfect time to brighten skin and reverse pigmentation that may be lingering from the summer's sun exposure. We  have two concentrated corrective serums to power treat pesky dark spots:
Rhonda Allison ChronoPeptide A uses the purest form of Vitamin A to brighten, strengthen, and firm the skin without the irritation found in some commonly prescribed vitamin A products.
Rhonda Allison C Stem Cell is a 20% Vitamin C serum that not only helps lighten pigmentation, but increases hydration, reduces redness, and minimizes the appearance of fine lines and wrinkles.
DON'T FORGET YOUR BODY!
Farmhouse Fresh Honey Heel Glaze: This mask is for more than just feet and is one of our best-selling spa products. Brush on this hydrating, soothing mask on dry hands, elbows, knees, heels, wrap with plastic wrap, socks, or gloves, and let let it gently exfoliate and hydrate dry skin. We incorporate this into our signature services and many of us personally use this product. You can wash it off or put it on before bed for an overnight miracle fix for dry skin!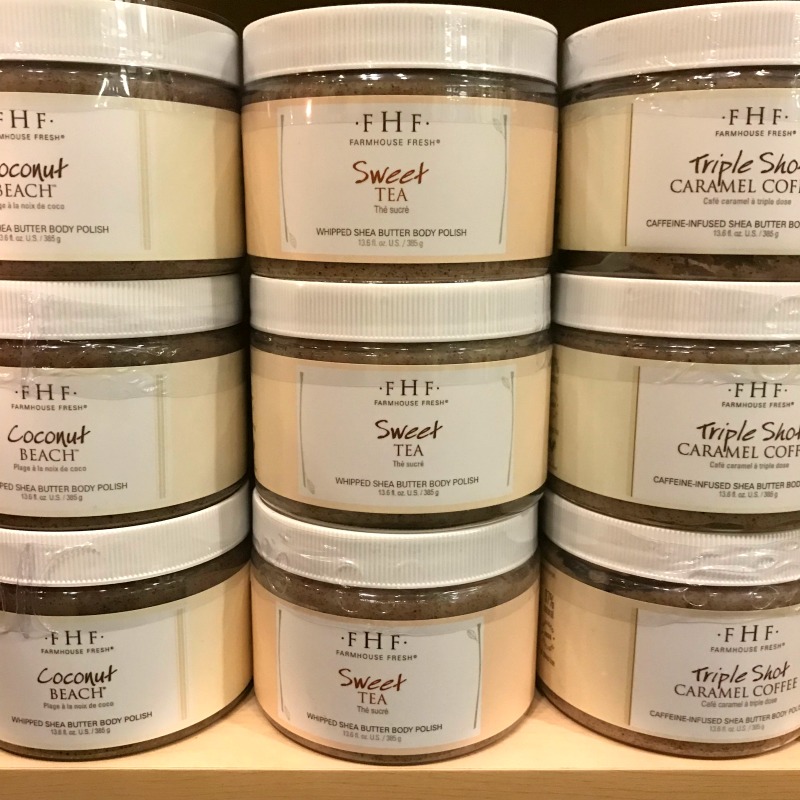 Farmhouse Fresh Shea Butter Scrubs: These are the most hydrating body scrubs we carry. Unlike salt scrubs which can irritate dry, cracked skin, shea butter scrubs are gentle, not TOO abrasive, and will leave your body feeling hydrated like you've just applied lotion. We carry 3 delicious scents. Camille recommends a weekly full body exfoliation. These are also great to help prevent ingrown hairs after a wax.
CND Solar Oil: Cuticle oil is important year round, but in the winter, dry cuticles can become painful and picking at your cuticles and nails can lead to infection. Apply a few drops of CND Solar Oil after your shower or before bed to keep cuticles soft and help you resist the temptation to pick!
Stop into the spa anytime to ask our front desk for advice on the best hydration products for your needs or click here to book yourself a hydrating body scrub or facial at the spa!