We're dedicated to staying up-to-date on the latest developments in COVID19, including what we can do to reduce the risk of transmitting COVID19 to our guests and employees. There is no perfect solution and every service will come with risks, despite our best efforts. We feel confident that, short of staying closed, we are doing everything within our power and we're confident our guests will serve as our partners in risk management.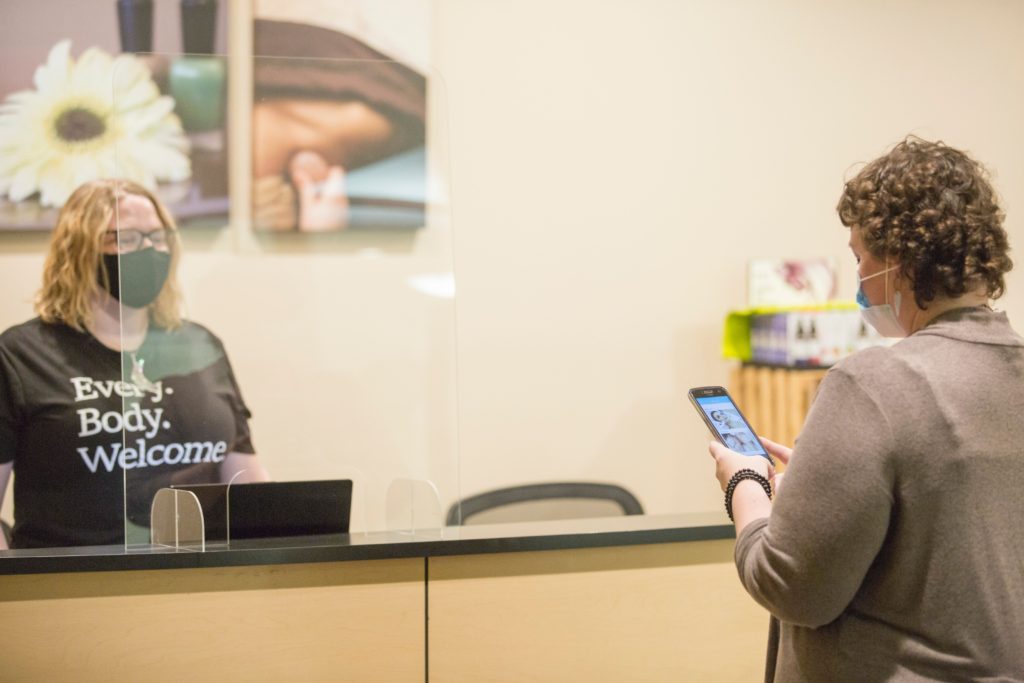 Physical Distancing
This is a key to managing virus spread, but we won't lie, this one tears at our hearts a bit. We went into these high-touch careers because we're nurturers. We long for the "old days" when we'd spend a hectic Friday morning sharing treats (when will it be safe to offer someone a bite of your pastry again), laughing, and falling over each other as we set up for a day packed with our favorite guests. These days are temporarily on hold. Instead:
We're limiting the number of employees who can work at a given time, though we've extended our hours and are temporarily open 7 days a week.
We're limiting the number of guests in our spa at a time, and are adjusting appointments so check-in times are staggered.
We're reducing the number of receptionists on-site at the spa and will often have another person working from home behind the scenes.
We're temporarily asking guests to wait in their cars and not bring others with them to their service to minimize the number of people in the spa at a time, in adherance with new guidelines for spas.
We split our cozy nail room into two separate nail rooms. Only one guest and one provider will be in a nail room at a time. It's actually pretty awesome, we're very proud of the safety measures we have in place for nails.
We're temporarily unable to offer couple's massages. While we know that couples are likely not distancing from each other, our employees are, and couples services make that tricky.
We are not able to accommodate parties or group bookings at this time.
We have a great webstore so customers who can enjoy our products with quick shipping or parking lot pick-up!
Managing virus spread in the air
Our biggest concern is that viruses can linger in the air so the best thing we can do to reduce risk is to reduce the risk of inhaling droplets.
All employees will wear masks in public areas of the spa and treatment rooms.
Guests and visitors to the spa are required to wear masks or face coverings at all times, including during services. If you need a disposable mask, we'll provide one before you enter.
Starting in August, we've resumed 60 minutes or less facials and lip/chin waxing , but with extra safety precautions. We require guests to wear masks into and out of the treatment room and our providers will wear surgical masks, shields, and use large HEPA room purifiers to quickly exchange the air.
We have to suspend our complimentary beverage service temporarily, but feel free to take a hot or cold drink to go!
We've installed plexiglass barriers at the desk and in the nail room at manicure and pedicure stations as an added barrier in addition to masks, especially as guests and providers will be in prolonged close face-to-face contact.
In-room HEPA air purifiers to increase air exchange.
Hand hygiene and reducing surface contamination risks
We've always used recommended cleaning protocols and gloves for services where we could come into contact with mucus membranes or blood, but we've kicked it up for your comfort and we'll be more visible about it.
We've switched to wipes exclusively instead of sprays and wipes to clean surfaces. These hospital grade wipes have a shorter surface contact time to kill COVID19 and other viruses and bacteria.
We will continue to wear gloves when it makes sense (waxing, manicures, and when we offer them again, facials) but we don't plan to add gloves to massage. Proper handwashing and hand sanitizer is more effective for services where there isn't a risk of coming into contact with blood or mucous membranes. If you'd prefer your massage therapist wears gloves, let us know. We certainly can, but we massage with our hands, forearms, and elbows (then properly wash thoroughly) so it isn't really helpful.
Table coverings: We've added waterproof coverings to all pillows including body pillows, and to our table warmer. All can be thorougly sanitized with our disinfectant wipes. We switched out heavy blankets for heavy towels so we can launder them more rigorously.
The front desk area and common supplies like ipads and pens will now be cleaned with hospital-grade wipes regularly.
We'll require a credit or gift card on file for no-contact check out.
As always, our in-spa restroom and common area surfaces will be cleaned frequently.
We've got hand sanitizer everywhere you turn and guests will be expected to use it before and in some cases, during services. We will do the same!
We've always had an amazing evening cleaning employee, she's back and continues to deep clean our treatment spaces each night.
Employees won't work sick, please don't visit us when you're sick!
I can't stress this enough, we'll need guests to cancel when they are even a bit sick. We've always asked clients to do this, but it is a matter of utmost importance now. We are waiving cancellation fees for any amount of notice if guests cancel for COVID19 reasons.
If our employees are at all under-the-weather or have been exposed to COVID19 in or out of work, we will cancel or reassign their services until we have more information. We'll be erroring on the side of caution, so please understand if this impacts your service.
We've got a detailed plan for testing, tracing, and notification if an employee is suspected of having COVID19 or has been exposed.
All guests must agree to contact us ASAP if they learn they may have had COVID19 at the time of a visit so we can follow our testing, tracing, and notification protocols while maintaining confidentiality.
We are not doing temperature checks unless we have a concern. We do have a no-contact thermometor at the ready. Here's why: The majority of people who have COVID19 will not present with a fever or will be PRE-symptomatic at the time of a visit. We worry that fever checks cause people to let their guard down. I've consulted with salons and spas who are open and doing temperature checks. Most have found the only people with a "fever" are those who have been waiting in a hot car, and their temperature drops after a few minutes in the air conditioning. We'll assume every person we encounter is an asymptomatic carrier to ensure we use best practices.
We are temporarily asking all guests to complete a COVID19 intake prior to all sessions. We appreciate your patience as this quick form will help make everyone (including YOU) safer.
Understanding health risks after COVID19 recovery or with lesser understood symptoms
The last thing that's kept us on our toes with our reopening preparation is reading up on potential contraindications with some of the vascular symptoms and issues caused by COVID19 and what that could mean for our services.
Our massage therapists will be asking additional questions of people who have had COVID19 to check for potential modifications they need to make due to blood clotting and other vascular challenges.
All of our providers will will be on the look out for skin changes and potential symptoms on the extremities and toes.
We are committed to continuing to read and research the latest information on how we can help people who have recovered from COVID19 in the safest way possible.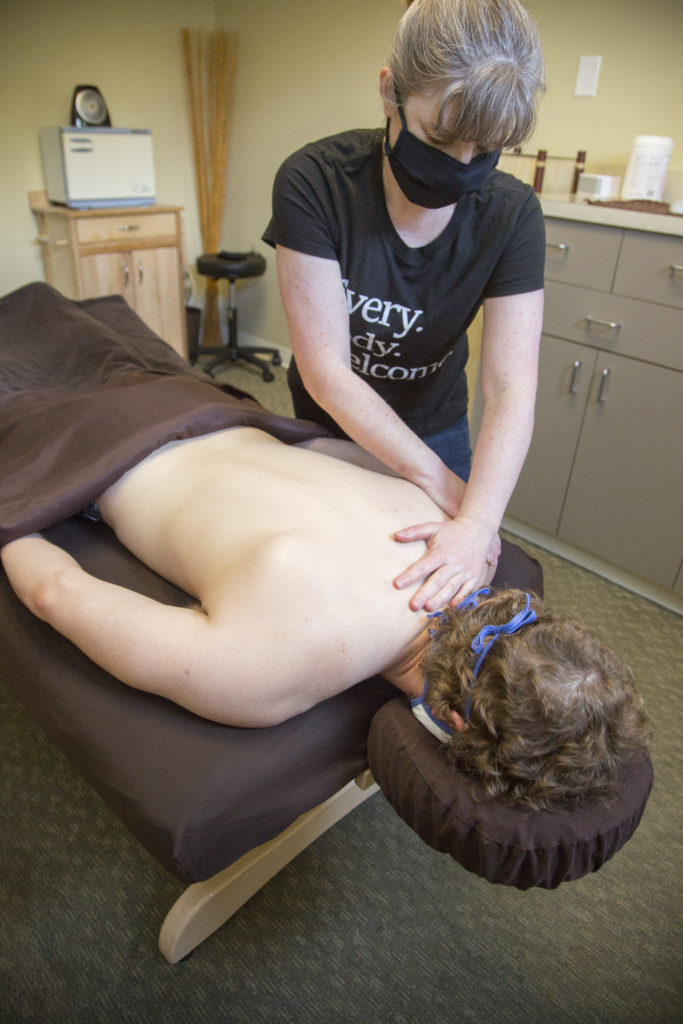 Thank you, if you've read this far, you're probably as concerned as we are about health and safety. If you have any questions before or during your session, please let us know. We're eager to serve you again and we are sincerely grateful for your patience as we start over and continue to fine tune our processes in this ever-evolving situation.