E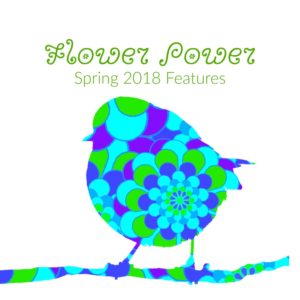 very season we're thrilled to bring a new features menu. For Spring 2018, our team selected three aromatherapy blends to help with common spring concerns. When you schedule our Flower Power massage, body scrub, or facial, you'll get to select from one of the following three essential oil blends to enjoy during your service and take home as our gift!
Spring Cleaning Blend: Toning and astringent essential oils support lymphatic drainage, increase circulation and boost immune function. Choose this to feel refreshed and revitalized.  This blend includes lemon, lime, geranium, and rosemary essential oils.
Breathe Deep: Clear and protect your respiratory tract and sinuses, soothe congestion and coughs. This is a perfect blend for someone who is experiencing seasonal allergies. We don't recommend visiting the spa when you have a cold, but the oil you take home will be perfect to keep in your medicine cabinet! Includes lavender, frankincense, peppermint, and eucalyptus essential oils.
Flower Power Blend: This uplifting flower and citrus blend will help give you courage to say "no" to some of the spring events, occasions, and obligations filling your calendar. The energizing properties in the blend help give you a pick-me-up when you feel like your schedule is running you instead of you running your schedule. Includes lemon, rose, and a hint of peppermint essential oils.
Scent is a powerful tool and we like to think that by associating these scents with a nurturing East Village Spa Service, when you enjoy your product at home your mind take a mini trip back to your relaxing visit at the spa. Learn more and schedule our seasonal features here. (Flower Power features are available March- May 2018, after May 2018, this link will take you to whatever our current seasonal features are!)