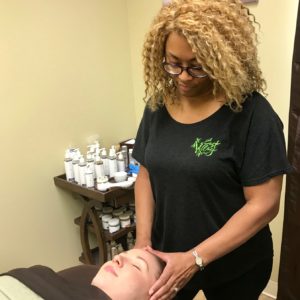 We welcomed Kanika Mayes to our team in May 2018. She's licensed in every service we offer at East Village Spa and comes from a long line of cosmetologists, including her grandmother and mother. A passion for the beauty industry is in her DNA!
What are licenses do you hold and where did you attend school?
I've been a licensed cosmetologist since 2002, a licensed esthetician since 2014, and a licensed massage therapist since 2018. I attended the Iowa School of Beauty in Urbandale for my cosmetology and esthetics training, the Iowa School of Beauty in Ankeny for my massage therapy training, and Aveda institute for my instructor's license.
What are your specialties?
As an esthetician: Facials, facial waxing (I LOVE brow shaping!), chemical peels, and Hydrafacial. As a licensed massage therapist: Relaxation oriented massages. As a cosmetologist I also provide relaxing manicures and pedicures at East Village Spa.
Why did you choose this career?
I truly believe it is a blessing and a privilege to have a career that helps clients build their confidence through skin and nail care, and relieves their aches and pains through massage therapy. Overall helping people look their best on the outside helps them to feel their best on the inside.
Describe your treatment style in a few words:
"Look good, feel better."
What is your favorite East Village Spa service to give?
Our seasonal massages, because I enjoy the aromas we work with specific to the season.
What is your favorite East Village Spa service to receive?
The custom spa pedicure
What is your favorite product we carry?
This summer, it is the Farmhouse Fresh "Fresh Melon" scented lotion, but it is always changing.
How do you spend your free time?
I throw AMAZING parties, teach Sunday school, love reading faith-based or inspirational books, and am a huge Denver Broncos fan!
Why should clients book with YOU?
I'm a knowledgeable, patient, and caring professional who is in-tune with my clients' needs.
Book with Kanika online or call (515) 309-2904 to schedule!