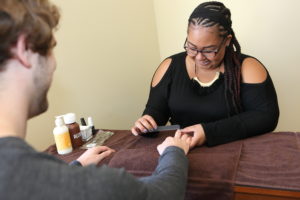 Cyerra Kemp joined our team in 2015.  Her infectious laughter fills the spa and we honestly don't know how our team survived without Cyerra! She's got a fun style and her clients love that she can always make them laugh during the more sensitive services like Brazilian waxing. She is a very detail-oriented nail technician and mentors new co-workers. She's incredibly dedicated to her career and her clients.
How long have you been in the industry?
I graduated from PCI's nail tech and esthetics programs in 2015. I've been working at East Village Spa since.
What are your specialties?
Shellac (I can do precise French tips and fun nail art if you book the extra time!), Brazilian waxing, and acne facials.
Why did you get into this industry?
I love making people's nails beautiful and showing my creativity through nails.  I get joy from helping others feel good after a long day.
Describe your treatment style in 3 words:
Passionate, comfortable, caring
What is your favorite service to give?
Hydrafacials. Brazilian waxing, Shellac manicures
What is your favorite service to receive?
Hydrafacial
What is your favorite retail product?
Rhonda Allison Growth Factor Serum-It helps with healing acne and lesions. I also love the Rhonda Allison Arnica Therapy. I call that the miracle cream.
What do you do in your free time?

I enjoy spending time with my family and four children. We love to go swimming and go to the movies.
Why should guests visit YOU

I have an infectious laugh and fun personality. If you want nail art, I'm your girl! (Note: Cyerra is TOO modest. Her clients adore her and can't wait to see her. She's like a BFF they can't wait to catch up with).
What are clients saying about Cyerra?

"Cyerra was the best spa technician I have had yet. My experience with her makes it worth driving past many other salons to visit East Village Spa."
"I love Cyerra and she gives fab pedicures and we always have fun catching up."
"Cyerra is a seriously amazing esthetician. She has the best, most bubbly personality, and her jokes are welcome and hilarious, too. Cyerra always does a great job on nails, and I get tons of compliments. I loved following her on instagram, and I always tell people she's my favorite. If I'm going to book online, I always look for her name first! Cyerra is a huge reason I've kept coming back to the East Village Spa! "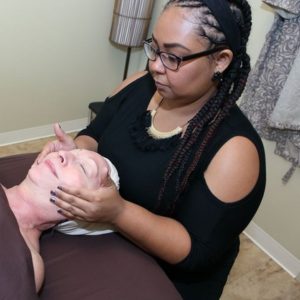 To book an appointment for a with Cyerra, click here!  If you want to add nail art, please add an upgrade for french tips or Rockstar Nails so that ample time is allowed. To mark your booking as a request, select "Specific Therapist" option from the drop down menu, then her name.