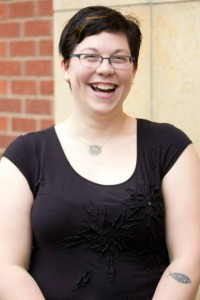 Dawn Knutson has been a part of the East Village Spa team since 2011, seeing clients around her busy schedule as a mother to 3 great boys.  Dawn is a great fit for clients looking for a very relaxing and nurturing style of massage.  We are excited for you to get to know her better.  You an schedule an appointment with Dawn by clicking here!
How long have you been working in this field?
I have been a Licensed Massage Therapist for 15 years
Why did you go into this line of work?
My dad has always had headaches as long as I can remember, and always had me massage his neck while growing up.  After traveling for a while and not knowing my next step, my Dad checked out some massage schools, without me knowing, and he told me I had an interview with a massage school.  The next day I went to the interview and my gut told me to go with it.  I hadn't even had a massage before starting school!
What is your favorite service to give?
60 and 80 minute EV Signature Massages and pregnancy massage.
What is your favorite service to receive?
Two Feet Deep and 75 minute Wellness Massages, plus the EV Signature Facial
What is your favorite spa retail product?
Our bath salts and Zoya nail polish.  I also love the Derma E Microdermabrasion scrub.
How do you get involved in your community?
I volunteer weekly at my children's elementary school and am also on the PTA.
What are your favorite ways to reduce stress?
Get a massage every other week and take a bath with Kneipp bath salts.
What are your favorite suggestions or tips for clients?
Relaxing is a huge takeaway for guests.  Working out, taking a bath, stretching…these will all help your body feel better longer!
Do you have a special talent or unique hobby?
I like to hoop dance
Why should clients visit YOU?
I feel that I give my clients my entire attention. I listen to your needs and like to tailor my massage to fit with what you are seeking for your end result from your session. I like connecting with people and feel that I can help make a difference in helping others to relax.