Since the day Derma E's BB Cream hit our shelves last year, I was in love.  It is perfect for evening my blotchy skin tone and hiding the redness (that is made even more pronounced by my red hair!)  It also has SPF 25.  I'm sensitive to almost every sun screen product, so the fact that I can't smell or feel the sunscreen in this product is a miracle to me.
I wear it every single day as a moisturizer and often, with mascara, it is the only "cosmetic" I need.  And yes, it isn't just for women.  It is perfect for anyone with uneven skin tone looking for some sun protection and light hydration.
I decided the best way to tell you how awesome the product really is would be to SHOW you my before and after with and without the product.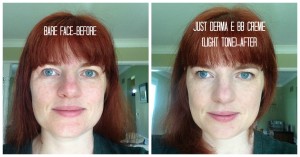 We have BB Cream in 2 shades and I am not sure how, but those two shades blend really well with most skin tones.  Stop in to give it a try!
Copyright © East Village Spa 2014 All Rights Reserved. No part of this website may be reproduced without East Village Spa's express consent. Our photography may not be used in any manner without our express written consent. Backlinks and sharing with the buttons at the bottom of the page are allowed.