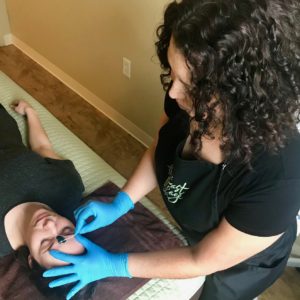 JoLynn Evans joined our team in 2018, but her career in esthetics started long before. Prior to joining our team, she had experience working with Rhonda Allison Skin Care and was certified by Hydrafacial, and was a loyal fan of the type of wax products we use in services. She has quickly fit in with our team and our clients.
When and where did you receive your career training?
I studied Early Childhood Education and Performing Arts at Iowa State. I received my esthetics training at Capri College in Cedar Rapids and became a licensed esthetician in 2004. I graduated with my nail tech license from La James in Johnston in 2015, and attended Iowa School of Beauty for my Cosmetology Arts and Sciences Instructor license in 2016. I was fortunate to have a mentor in Dr. Kim Schulz in Coralville, IA. I worked at her Dermatology clinic right out of estthetics school and she was always willing to show me what she was doing with her patients and keep me up to date on the latest skin care information.
What are your specialties?
Brow waxing, skincare for highly pigmented skin, acne management, chemical peels, and Hydrafacial. I'm extremely passionate about skin cancer prevention. For nails, I love doing Shellac manicures and nail art (book extra time for that!)
Why did you go into this field?
Originally, to become a make up artist, then once I learned more about skin and skin care, I was hooked! Plus, the best foundation is great skin. I've always loved giving and receiving manicures and pedicures and I almost went to nail school before I even knew what an esthetician was.
Describe your treatment style in 3 words:
Thorough, relaxing, safe
What is your favorite East Village Spa service to give:
Any facial (especially for acne management or highly pigmented skin)
What is your favorite East Village Spa service to receive?
EVERYTHING!
What is your favorite East Village Spa Retail Product?
Not fair…there are so many! I love anything with hyaluronic acid in it and I think people need to wear sunscreen every day of the year. A few specifics I especially love are Rhonda Allison's Mandelic Argenine Serum, Ultra Hydration Cream, and C-Stem Cell Serum.
How do you spend your time outside of work?
I love art, spending time with my twin daughters, watching and participating in theater products. I also love to sing. For fitness, I'm a fan of yoga and pilates. A few of my favorite TV shows are Grey's Anatomy (still!), How to Get Away with Murder, and This is Us.
Why should guests book with YOU?
I'm going to take great care of you,  help you relax, and keep your skin and nails healthy.
What are guests saying about JoLynn?
"She did a great Brazilian wax! JoLynn was professional, her technique was comfortable, she got all the hair, and didn't make me feel weird or awkward about getting a Brazilian. I'd definitely return to see her for another service!"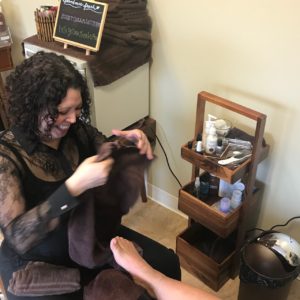 To schedule a service with JoLynn, click here. Select "Specific service" from the drop down menu and then click her name to check her specific availability and register your booking as a request.