This week, a new running store moved into the East Village right across from the spa building on East 6th.  Fleet Feet specializes in running gear for athletes of all fitness levels and is a great place for beginning runners as they'll work to outfit you in the right gear, from shoes that are best for your needs to staff trained in recommending the best sports bra type AND size (and I agree with the woman helping me out in the store when she said that for many women, a properly fitting sports bra is just as important as the right running shoes!)
The store doesn't have a huge foot print (pun intended!) but fills their space with a good assortment of shoes, apparel (mostly Nike apparel), nutrition (including my favorite triathlon fuel, Stinger waffles, chews, and Jelly Belly Sports Beans), accessories (iphone arm bands, belts, water bottles, and such), and self care tools.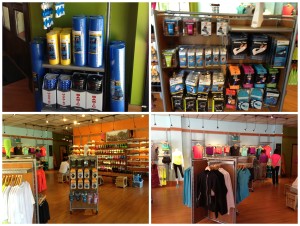 If you are new to running or walking, are looking for some cool new accessories to motivate you to go farther in your workouts, or are experiencing some pain, especially in your feet and lower body, definitely stop by their store, our employees are thrilled with the selection and we know you will be too!
Copyright © East Village Spa 2014 All Rights Reserved. No part of this website may be reproduced without East Village Spa's express consent. Our photography may not be used in any manner without our express written consent. Backlinks and sharing with the buttons at the bottom of the page are allowed.