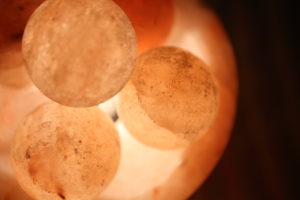 I admit to being a skeptic on lots of "new and exciting" products so I didn't give Himalayan Salt Stones much thought when they started appearing in little pockets of the industry last year, replacing traditional basalt or jade massage stones. Fast forward to September 2016at the International Spa Association conference, when I was captivated by a bowl of warm stones that appeared to be glowing. Every day, I'd return to booth and play with varieties of warm salt stones, testing them for heat retention, heat consistency, overall feel. I could not get over these stones!
I ordered a set for the spa "just for fun" and after months of using them with our regular clients and for special events, we're all hooked and have now changed over our Heavenly Hot Stone Massage sets to from jade to salt stones and are in the process of adding enough stone sets to include a few Himalayan Salt Stones in our EV Signature Massages in lieu of the basalt stones we have been using for 9 years.
We are so excited for you to try them and these are the top 5 reasons we fell for the Salt Stones:
4. The heat is consistent and unlike stones in water roasters, they won't get TOO hot so there is less down time for your therapist making sure they are a safe temperature mid-session.
3. In the past, we couldn't offer hot stone massages in the couple's room because the roasting units generated too much heat and used too much electricity. With the new stones, we can FINALLY offer a couple's hot stone massage! Look for this new service to be available before May 2017.
2. The salt stones will help us in our goal to be more environmentally conscience. Unlike the jade stones which require a couple of gallons of water for warming and cleaning, the salt stones warm on a dry mat and require only a safe EPA registered Thymol oil cleaner. PLUS, the salt stones have natural antibacterial properties.
1. The texture is AMAZING! Even our long-time hot stone regulars who loved the Jade stones were impressed by the slight hint of exfoliation with some of the salt stones. The texture allows the therapist to get a better grip to work a bit deeper as well because they have more control of the stones.
We can't wait for you to try our new and improved Heavenly Hot Stone Massages, we know you'll love them as much as we do!
Click here to book online or give us a call at (515) 309-2904!