At East Village Spa, we value education.  We were so thrilled to be able to bring an excellent teacher and presenter, Jennifer Barnett to the spa to provide a workshop on Thai Massage techniques we can incorporate on the massage table.  For some of our team, this class was a great review.  For other therapists at the spa, learning the compressions and stretches was new.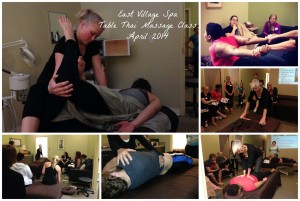 If you are interested in experiencing some of the Thai massage techniques on the table, book an Athletic Edge Sports Massage with Justin, Stacy, or Clair and indicate in the notes that you're interested in Table Thai massage.  They've got the most experience with these techniques and have been using them for quite awhile!  You might find your regular therapists slipping a few stretches or compressions into your session that are new to you and feel AMAZING!
We appreciate that all of our clients were understanding that we all had to take some time off to enjoy this course and we're confident that you'll appreciate the new skills we learned!
Copyright © East Village Spa 2014 All Rights Reserved. No part of this website may be reproduced without East Village Spa's express consent. Our photography may not be used in any manner without our express written consent. Backlinks and sharing with the buttons at the bottom of the page are allowed.