K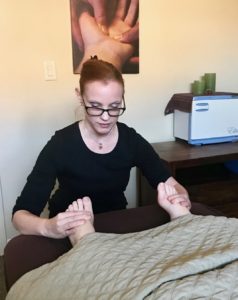 arina Levy joined the East Village Spa team in March, 2018 when we recruited her to fill an open position, knowing she was the perfect fit for our guests. Karina 's experience as a professional ballet dancer and founder of a non-profit that provides massage therapy to individuals who have ALS are two things that create her uniquely relaxing and therapeutic style of bodywork.
Where and when did you receive your professional training?
I received massage therapy training at the Iowa College of Natural Health (Iowa School of Beauty) in 2012 in Ankeny. I have a BA from Iowa State in history and religious studies and I'm working on my master's in history. I've taken several advanced trainings including Myofascial Release by John Barnes, Orthopedic and Sports Massage by James Waslawski, and cupping.
What are your specialties?
Orthopedic massage, working with people who have serious illnesses like ALS, prenatal massages. I love to give relaxing services like body scrubs and hot stone massages as well.
Why did you choose this field?
I was a professional ballet dancer for 12 years, massage therapy helped me with injury and maintaining healthy muscles through my career.
Describe your massage style in 3 words:
Therapeutic, Deliberate, Quiet
What is your favorite East Village Spa service to give?
Either the EV Signature or Athletic Edge Massage
What is your favorite East Village Spa service to receive?
Same! Depending on the day, either the EV Signature or Athletic Edge Massage
What is your favorite retail item?
I LOVE bath salts so I'd say the Kneipp salts or Rapid fire for injuries.
What are some fun facts about you?
I've lived, taught, and performed ballet in Denmark, New York City, Chicago and many other places. I love to read and I'm a history nerd. I love wine, cheese, and strong coffee.
Why should guests book with YOU?
I respect your life story and health needs, whatever they are that day. I do my best to listen to your body and cater to your needs every session.
What are guests saying about Karina?
"From the instant my massage started, I knew I was literally in good hands. Karina used a nice, firm pressure throughout the massage but her technique was so slow that it didn't cause pain and was super relaxing. She let me rest quietly and my mind drifted away. Before my session I was stiff and achy from swimming, but I left the spa with greater range of motion and a much better attitude!"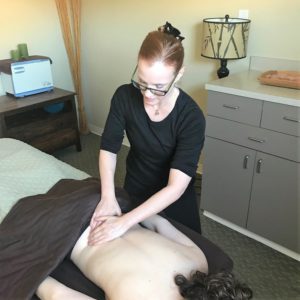 To book a session with Karina, click here. Please select "Specific therapist" from the drop down menu, then select her name to see her availability. This will register your booking as a request for Karina.