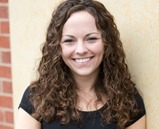 Kristiana Moore is a popular massage therapist at East Village Spa with clients who visit regularly for stress reduction and relaxation.  She is a quiet, calming presence among our team and we are so thankful she chose to join us!  Her passion for her work is obvious to all who visit her at the spa.
Why did you choose a career as a massage therapist?
Ever since I was a child I wanted to go into a field where I could help people.  Being a massage therapist is a perfect way to achieve this and is something I truly love doing.
How long have you been a massage therapist?
I graduated from massage school in 2007 and received my license in 2008.
What is your favorite treatment to give?
The Heavenly Hot Stone Massage because it is really a comforting massage to receive and you can relax the minute the warm stones touch your skin.
What is your favorite treatment to receive?
The Wellness Facial because I fall asleep within 5 minutes every time!
What are your favorite spa products?
The Farmhouse Fresh Hello Yellow Shea Butter lotion because it smells like summertime and the Clarisonic Cleansing brush because it makes your skin feel so clean and fresh!
What are your favorite ways to reduce stress?
Hiking, yoga, exercise, reading a good book or watching a TV show or movie with my husband at the end of a long day.
What is your best advice for clients?
In the fast-paced world that we live in it is so important to take time to do something for yourself.  Take 15-30 minutes  each day to do something that just allows you to relax and clear your mind.  I think you'll be surprised at how much better it will make you feel!
What is one of your favorite wellness quotations?
"When you feel like you are having a day when you have the weight of the world on your shoulders…do squats!"
Do you have any talents or hobbies people might not know about?
My husband and I love to hike.  We are always looking for our next outdoors adventure.  I've also learned to crochet and it is great for 30 minutes of "me time" during the cold winter months.
Kristiana is too modest to answer my question of why clients should visit her, so I'll answer for her! 
She has been a massage therapist for 7 years and she still has a strong passion for her career.  She is always wanting to learn more and take new classes, she frequently spends breaks reading massage books or articles.  During a session, her focus is on you, the client.  Clients know they can rest their mind and body and receive her full attention during a treatment.
To schedule a session with Kristiana, click here and make sure to select her name from the drop down menu of therapists!