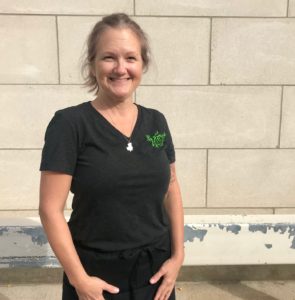 Jennifer Phipps, LMT, joined our team as a full time massage therapist in 2018, but she's had many years of experience prior to that, including work with several of our massage therapists who were thrilled to welcome her to the East Village Spa crew!
How long have you been in the industry?
I graduated from Body Wisdom Massage Therapy School in 2006 and have worked as a massage therapist ever since!
What are your specialties?
My specialty is truly a mixed bag, but I love working with specific concerns. For example, if someone has limited mobility, I can really focus in on increasing mobility and tracing the muscle back to the original point of trauma.
Why did you chose this profession?
Honestly, the profession chose me.
Describe your massage style in 3 words:
Warmth, Escape, Exhale
What is your favorite service to give?
Hot stone and deep tissue massages
What is your favorite service to receive?
Same! Hot stone and deep tissue massage
What are some of your interests outside of work?
I'm an aerialist (a beginner), but I love to "fly."  I recently did the 500 mile Carmino de Santiago walk in Spain. I love anything outdoors!
Why should guests book with you?
I provide a space of trust and my style is relaxing, yet effective.
Book with Jennifer online here! If you wish to request her specifically, be sure to choose "Specific Therapist" from the drop down menu, and then her name.