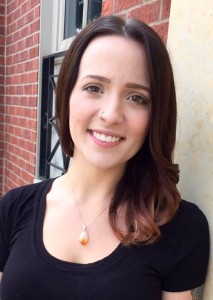 Our newest team member is no stranger to the industry!  We're excited for you to get to know licensed esthetician and nail technician, Hannah Bates, who joined East Village Spa's team full time in July 2015.  Hannah joined us in anticipation of our long-time esthetician/nail technician Lydia's upcoming move to California this fall.
How long have you been in the industry?
4 years, unless you count the million manicures I tried at home as a kid 🙂
Why did you go into this field?
I studied nail technology because nails are a fun creative outlet.  I studied esthesiology because as a teenager I had a ton of trouble with my skin.  Mostly because I had no idea how to take care of it.  I always hated it and my skin gave me a lot of image issues.  I wanted to be able to help women with the same concerns.
What is your favorite service to give?
Waxing, nail art, and peels
What is your favorite spa service to receive?
Massages!  But I also love to get my nails done for a change.
What is your favorite spa retail product?
I'm a product junkie, but I love the Derma-peel from Rhonda Allison and the Farmhouse Fresh Splendid Dirt mask smells so good and makes my pores so tiny!
What are your favorite ways to reduce stress?
Yoga and meditation, also coloring and journaling
What are your favorite suggestions/tips/tricks for clients?
Don't listen to Pinterest!  Ha ha, just kidding.  Truly, self care and wellness can change your life if you let it.  Have an open mind and take care of yourself.
What are your favorite wellness resources?
Anything by Louise L Hay, Ram Dass.  Lots of Aveda training has gotten me in love with the books of their founder, Horst Rechelbacher.
Do you have a favorite relaxation quote?
"The quieter you become, the more you can hear." Ram Dass
Do you have a special talent?
I can lick my elbow (Just joking, but I bet I made you try it!)
Why should clients visit YOU?
This is Cassie, I'll answer this one for Hannah:  Since joining our team just a couple of weeks ago, our clients have LOVED Hannah!  So have her co-workers.  She works hard, loves learning about treatments and the science behind ingredients, and truly cares for her clients.  She makes services fun.  For Lydia's regular clients looking for a new nail technician with a similarly creative spirit, Hannah is a perfect fit!
Click here to book with Hannah!