I'm pretty much in the school of thinking that ice cream and a trip to the spa can fix lots of things.  Put the two together?  BOOM….Magic.
We're testing my theory on August 16th.  My cousin's popular ice cream shop, The Outside Scoop, will be on-site in our parking lot with their ice cream truck selling their small batch, from scratch delicious ice cream.  We'll be upstairs providing awesome services (book online with promo code ICECREAM for 10% off all services excluding waxing that day) and 20% off ice cream themed Farmhouse Fresh goods (pictured below).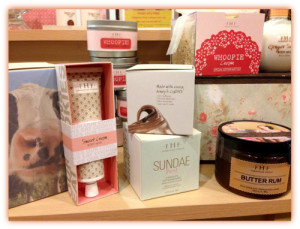 We'll also be doing a door prize drawing and goodie bags for the first 25 people to come upstairs after their ice cream purchases. Bring your friends and head down to enjoy a wonderful Saturday in the Historic East Village and try some of central Iowa's best artisan ice cream!
We hope to see you on August 16th from 11-3!