There is nothing better than waking up on the day you have a massage scheduled and knowing you are about to get a big dose of much needed relaxation and TLC.  I talked to long time massage therapist, Justin Behanish, for his tips on how to get the most benefit out of your massage before, during, and after your treatment.
Before:
Finish work or get any home projects or stressful tasks out of the way
Get in your workout
Drink plenty of water and eat a light meal, it is hard to relax with a full (or empty) stomach and your muscles will respond better to the work if they aren't dehydrated.
Find a way to make things easy for after your treatment so the rest of your day can run on "cruise control."  For example, set up a healthy meal in the crock pot in the morning so you can get home after your massage and dinner is ready!
During:
Speak up!  No massage therapist is a mind reader and our favorite clients are the ones who will honestly give us feedback when we ask if the pressure or temperature need adjusted.
Take some slow deep breaths and try to think of nothing but how your body is feeling.  Take time to just enjoy how good the massage feels!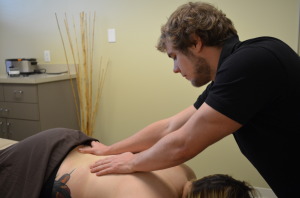 After:
Do things to help continue to relax your muscles and mind like light stretches, reading a book, or relaxing with a cozy blanket.
Relax in a hot bath with aromatherapy or bath salts from Kneipp, or try tiger balm on any areas your therapist worked deep before you go to bed to keep muscles loose and reduce the likelihood of soreness the next day.