We took our time learning the safest way to start offering facial services again in the middle of a pandemic. There hasn't been a ton of solid guidance for our profession, so we've been studying the dental profession and their practices as we developed our safety upgrades.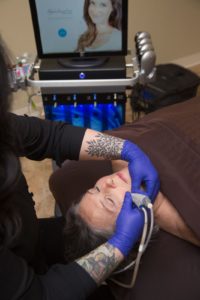 Hydrafacial is currently the first facial skincare service we brought back after we re-opened. We love this service because it is the most effective of all of our facial services with maximum benefits in a shorter time. Because guests will be "unmasked" for most of the service, efficiency will help minimize risks for providers and guests/ Don't worry though, this service still includes nurturing upgrades we're known for. Read descriptions here.
We can be safe AND relaxing!
In addition to our regular COVID19 safety upgrades,
Your Hydrafacial will be performed by a licensed esthetician who is wearing both a mask and face shield.
We will run a HEPA air purifier designed for a much larger space in order to quickly exchange the air in the room.
Guests will arrive in a mask and leave in a mask. Consider bringing a clean, cotton mask to put on after the service.
You'll first select one of three essential oil massage blends and your esthetician will help you relax (while masked) with some neck, arm, or scalp massage techniques (will vary by provider). You'll get to keep the rest of your oil as a gift to enjoy at home.
If you select the Deluxe Hydrafacial option, we've changed the in-service mask to a custom selected mask your esthetician will send home with you. You'll then apply this mask at home one-week following your Hydrafacial which will further enhance the results of your service.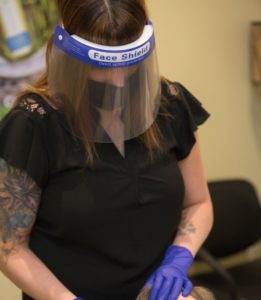 We feel confident we can provide Hydrafacial services with reasonable risk reduction, but please remember that no service is entirely risk free. For this reason, every one of our estheticians had a choice of whether to offer Hydrafacial services and some have decided to wait until cases significantly decline. This means that whomever you see is comfortable providing your service, which always makes for a more relaxing experience!