Confession time: I've bought diverted products in a moment of despiration and I KNOW better! A couple years ago, I realized that I didn't have enough foundation to last through an upcoming trip. Because of my poor planning, I didn't have time to run to the store that carried the brand, and there wasn't enough time to have it shipped directly from an authorized retailer. I caved to the temptation: I ordered it on Amazon Prime for 1 day shipping. My foundation arrived and I immediately realized it wasn't quite right. The label didn't match the original label. Instead of the shade being printed on the bottle, it was attached with a crooked sticker. It was orange. I'd been fooled. Not only was I out the money for a fake bottle of foundation, I was still out of foundation for my trip.
What does it mean if a product is "diverted?"
Diverted products are not sold through authorized channels. Many people think of shampoo and conditioner, but this is common with skincare and cosmetics too. Some lines are intended only for sale by licensed professionals or authorized distributors. Products sold outside of these channels are likely to be expired, diluted, adulterated, have not been properly stored, and are definitely not gauranteed by the manufacturer. Sometimes, these products contain dangerous additives or ingredients that are not on the label, so you can't be certain a diverted product doesn't contain ingredients you are allergic to.
How to spot a diverted product:
If you see a salon or spa brand, or any exclusive cosmetic or personal care product at a drug store, grocery store, or discount clothing and home goods store, chances are it is diverted. This In-Style article offers helpful tips for spotting diverted items, including looking for inconsistencies in the labels or packaging, covering bar codes to make them harder to track (look for bar code stickers or markered out bar codes), and prices that seem significantly lower.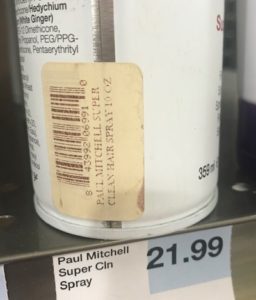 Am I getting a better deal at a big box store? 
Many professional quality hair and skincare lines dictate the prices that their authorized distributors can charge. No authorized licensed professionals or distributors are allowed to charge less. Ironically enough, many diverted products cost as much as, or more than, a guaranteed product sold from a legitimate distributor, and you truly can't know what you're buying if it isn't from an authorized retailer.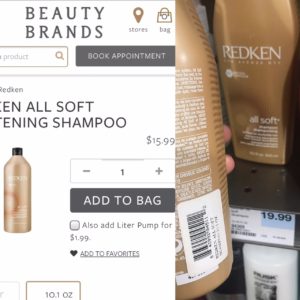 Professional skincare lines like Rhonda Allison, our exclusive skincare line, are only available through licensed estheticians or dermatologists. According to Rhonda Allison:
"Consumers need to be aware that if they purchase from an institution such as eBay or Amazon, their product may be diluted, expired, or counterfeit. Such product may not be safe to use or perform as tested and Rhonda Allison will not take responsibility for the purchaser's dissatisfaction…these products are considered "diverted" and constitute a high risk to the consumer."
A quick check of Amazon showed a few Rhonda Allison products, and almost all of these diverted products were priced higher than our products! Some appear to be bottles that are either older designs or not "quite right."  For example, I found a bottle of Rhonda Allison's Drops of Essence today on Amazon selling for nearly $50 more than we sell it at East Village Spa. Our product is guaranteed to be exactly what it says, comes with expert advice, and we'll happily ship it to our clients!

If diversion is so bad, how are stores getting away with it?
According to Consumer Affairs, the illegality comes from people within the supply chain diverting the products to stores like big box or online retailers, which is a breach of their contract. For example, if a distributor unethically sells their products, including those that are expired, damaged, or used, to a big box store, they are breaching their contract with the manufacturer. Some individuals sell stolen goods. The products then go to a warehouse where the products bar codes are destroyed or covered to make them hard to track. When a big box store buys diverted products from these unethical operators, this is not illegal, but it is unethical because the retailer cannot guarantee the authenticity or safety of the products.
The only way to reduce this practice, short of passing legislation making it illegal for retailers to purchase unauthorized products, is to educate consumers about product diversion and encourage consumers to purchase directly from their salon, spa, or wellness professionals. This is the only way to guarantee that you are getting what you pay for, and more often than not, you'll end up saving money. Plus, you will be supporting small business owners instead of online or big box retailers engaging in unethical practices without concern for your health.