I will admit, I stopped biting my nails years ago, but excitement over the spa expansion has wreaked havoc on my cuticles which are somehow finding their way to my teeth.  Camille had her work cut out for her today, but my nails look and feel amazing so I won't subject any massage clients to my rough skin!
She asked if I was using my CND Solar Oil (I feel like she busted me…it was obvious I had not been!) and then suggested I use the Farmhouse Fresh Honey Heel Glaze on my hands to dissolve the dry, dead skin around my nails.  It works on the thickest, toughest heel callouses, why WOULDN'T it work on my hands!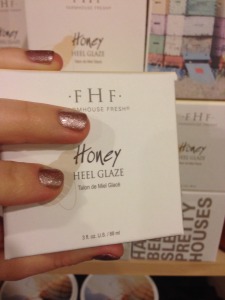 I'll give it a try this week and report back!
If you have caught yourself biting your nails or cuticles, or trying to deal with the dry weather as the seasons change, book yourself a manicure at East Village Spa!  Camille, Cassandra, Cammie, Katie, Sheena, and Lydia are all happy to help!