When I was in my early 30s, I knew I needed to get fit. I grew up swimming but didn't know how to ride a bike and couldn't run a mile. The first time I ran a full lap around Gray's Lake (1.9 miles) without stopping was as exhilarating as my first half marathon. I learned how to ride a bike in in my quiet neighborhood after dark so little kids wouldn't seem me wobbling around on two wheels. While I crave regular workouts now, I totally get how awkward it can be when you are just getting started so I wanted to share a few ways I've found that are comfortable for people of all fitness levels, especially people just starting out or getting back into the swing of things after a long hiatus.
Des Moines City Ride: A safe, comfortable bike ride
I still swim, and I learned to love running. I can bike well enough to complete triathlons, but biking on streets terrifies me. Not learning how to ride until late in life means I still almost fall off my bike every time I stop and can't stand up to pedal, weird things most people take for granted. My friend Katy gently nudged me to try the Des Moines City Ride last night after several people told me this was an awesome way to get comfortable biking around Des Moines. Last night we met at Westchester Park on Aurora Avenue and biked as a group to Dogpatch Urban Gardens which will be my new favorite place for produce! It was awesome!
The ride was a nice slow pace so nobody was left behind, great practice biking on streets, family friendly, and everyone was encouraged to use proper signaling. I was able to meet new people and catch up with friends while biking. The group meets most weeks on Mondays to explore a different neighborhood, but check their facebook page and website for the up-to-date schedule.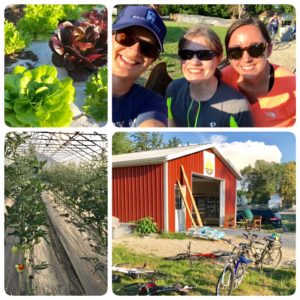 Lap swim at Ashworth Pool
During regular pool season, Ashworth pool offers lap swim only hours from 12-1 daily. The hours are not well-published so there is usually not a crowd. For newer swimmers, Ashworth's lap swim time offers a comfortable space to practice without dodging kids and families. The 50 meter length is great if you dread turns and swimming outdoors helps make getting in a workout more of a treat and less of a chore, especially if you use the last part of your visit to enjoy quiet time on the pool deck while you dry off. When I make it to lap swim, I usually notice a range of abilities, from new swimmers and senior citizens just covering a couple lengths of the pool, to triathletes and college athletes training in the off-season. Everyone just does their own thing and has plenty of space.
Fleet Feet run programs and social runs
I've always been a fan of Fleet Feet Sports and their run programs and social runs. The employees and volunteer mentors for Fleet Feet are the kindest, most supportive people you'll ever meet and they welcome both new and experienced runners and walkers to their programs. Whether you're running to get ice cream or beer, training for your first 5k or your 50th marathon, they have something you'll enjoy at just the right pace. They've even started doing social runs in other areas of the city. Check the Fleet Feet Website page for their upcoming events or stop into the store where they will be happy to invite you to join the fun!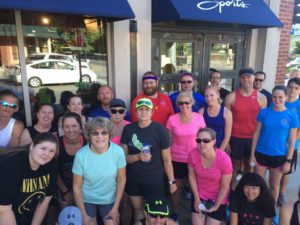 Visit the South Suburban YMCA
Prefer an indoor workout? I've found the team at the South Suburban YMCA to be exceedingly welcoming to people of all fitness levels. Some of our spa guests who have never gone to a gym have found a great home at the South Suburban Y and look forward to lap swim, water aerobics, spin classes, and individual workouts. If you've never been a "gym person" this might be a good place to start.
Wherever you start out, we're happy to help you on your journey! Book a massage to help with aches and pains, or any spa service as a healthy reward as you progress toward your fitness goals!