According to an International Spa Association study, 47% of spa-goers are men! Father's Day is a great opportunity to introduce the important men in your life to some the health and relaxation benefits of professional massage therapy, skin care, and nail grooming. The following are benefits of each service that appeal to men: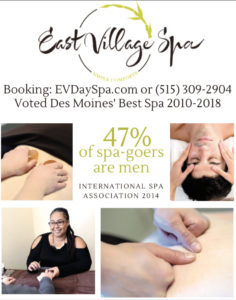 Licensed Massage Therapy: Licensed Massage Therapists (LMTs) are health care providers with hundreds of hours (most of our LMTs have well over 1000 hours) of training and maintain high standards of professional ethics. An LMT can help with general stress management by stimulating the parasympathetic nervous system, or relieve pain by relaxing tight muscles or addressing soft tissue  injuries with orthopedic techniques. Both relaxation and orthopedic massages have researched and proven health benefits. The American College of Physicians now recommends massage therapy as a first course of treatment for pain including low back pain.
Facials: Men truly benefit from professional facials performed by licensed estheticians (in Iowa an esthetician starts their career with 600 hours of training and accumulates hundreds of hours in additional training in skin health, product chemistry, and treatments). I'd even argue that men need these services more than women. Why? Shaving and beards! While women primarily seek professional skincare to slow signs of aging, men tend to seek skincare for irritation. Shaving can over-exfoliate skin and razor burn is uncomfortable and not the look most guys are going for. Men who wear beards experience dry, flaky skin under the beard. Even guys who rock a full beard can enjoy a facial, your esthetician can work through the beard to the skin below and focus lower on the neck. A professional skin analysis and treatment can help with these concerns. A simple but effective home care routine (sometimes just a product or two) can make a world of difference to a man's skin and relieve discomfort. 
In addition, most facials at East Village Spa include lots of relaxing massage of the face, neck, and shoulders, which everyone loves, regardless of gender. For a man that is uncomfortable with the idea of booking a full body massage therapy treatment, a professional facial is a safe and healthy, way to experience stress relief.
Nail grooming: Most people associate a manicure (hands) or pedicure (feet) with a perfectly polished finish, but in actuality, the nail polish is the most minor part of the service and can be substituted with a healthy buff to a natural shine. Our hands and feet are some of our body's most used and abused tools and their health is vital. Plus, everyone loves the hand or foot massage included in most services! Dry, cracked cuticles are an invitation to infection.
Healthy fingernails are a part of a well-groomed professional look and are vital for people in fields working with their hands like musicians or health providers. Safe, skilled care for cuticles and calluses and safe nail clipping to prevent discomfort or ingrown nails is an important part of foot care for athletes, especially in sports that require running. Men who work in industries with steel toe boots often experience foot discomfort and love the results of a professional pedicure. Men with mobility problems who can't reach their own toenails especially benefit from some TLC, though if they need more than routine maintenance, a podiatrist might be a good first step.
If you want to treat dad, grandpa, or another important man in your life to a healthy spa service, stop in or purchase a gift card online (www.EVDaySpa.com). We also offer convenient online scheduling! We promise they won't feel awkward at East Village Spa, we have a great mix of guests from teenagers to octogenarians and, YES, we see lots of men!