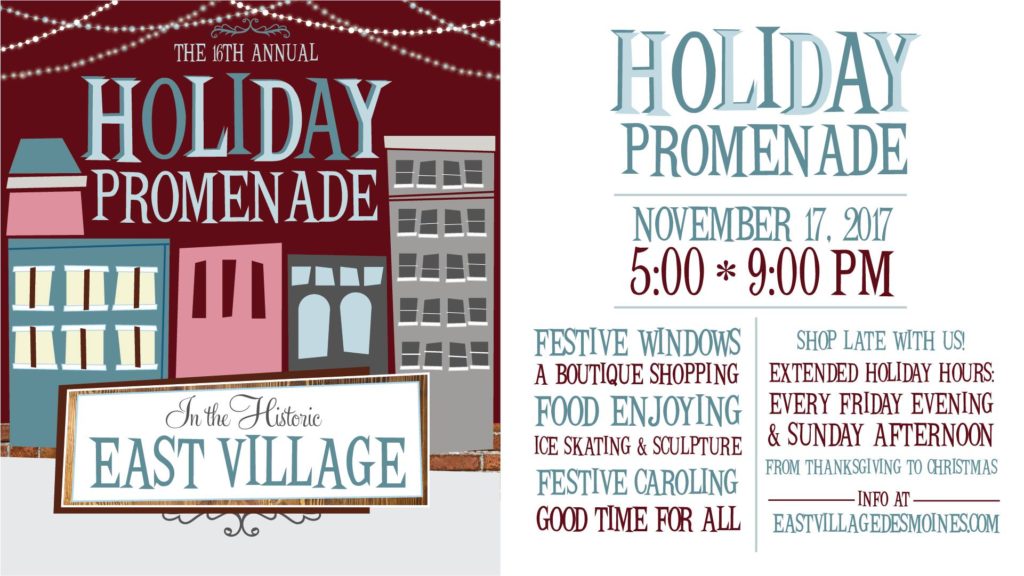 The East Village's annual holiday kick-off is THIS FRIDAY, November 17th. Thanksgiving is crazy early this year so we'll get an additional week of holiday festivities before Christmas. As always we plan fun events for the Promenade and encourage you to stop up and say hello! Here are our top 5 reasons to stop up this year!
TREATS! Our friend Anne at Shade Tree Bakery is creating gingerbread cake parfait cups for us. Be one of the first up to make sure you get one. She's a genius with baked goods.
DRINKS! I'll be making my spiced cranberry hot toddies. Cranberry, cinnamon, cloves, orange, and a splash of Jameson to warm your body and spirit.
BLENDS! Kelly and Molly will help you craft perfectly blended gifts at our aromatherapy blending bar so you can give a homemade gift that is customized for everyone on your list. Enjoy 20% off of all custom blended lotions, body scrubs, body mists, bath salts, and bubble baths.
MENU UNVEILING: We'll debut our December and January seasonal menu at the event…need a hint? The menu pairs perfectly with our treats for the evening.
GIFT CARD SALE! As Always, we'll be kicking off our annual gift card sale on Friday. For every $100 in gift cards purchased in the spa (excludes online) you'll get a FREE $20 voucher good for regularly priced services in 2018. The sale goes through 12/23, but it is best to shop early to avoid the lines.

P.S. A secret 6th reason? We have restrooms our customers can use between all of the Promenade stops for holiday cheer and merriment. A perk of being part of the East Village Spa family!