One of my favorite bits of wisdom shared in an old blog post about getting the most out of your massage was from our therapist, Justin. He recommended that clients figure out an easy dinner plan or have a meal going in the slow cooker so after their service, they don't have to worry about cooking, dishes, or grocery shopping. I love this advice so much I've started doing it myself!
Last week, I made one of my favorite vegetarian (easily made vegan) crock pot lentil soups, inspired by a recipe from my favorite vegetarian restaurant, the Chicago Diner. I was SO GLAD this was waiting for me at home on massage day or I would have caved and picked up a super unhealthy carry-out meal because I was too relaxed to cook!
Perfect post-massage lentil soup
1 1/2 c. dried lentils
1 bay leaf
6 cups veggie stock (I use "Better than Boullion" brand concentrate. Trust me, this is the best veggie stock mix out there)
1 large carrot, chopped
1-2 celery stalks, chopped
1/2 small red pepper (or whatever color bell pepper is on sale!) chopped
15 oz can diced tomatoes (I prefer the kind with peppers and onions, but pain is great too)
1/2-3/4 cup chopped yellow onion
Spinach (fresh)
Crumbled feta cheese (optional)
salt and pepper to taste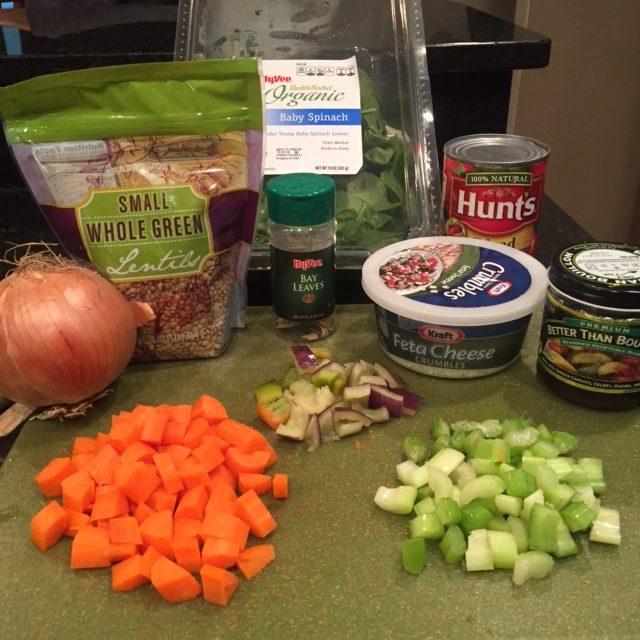 Toss all ingredients except spinach, feta, salt, and pepper into a crock pot. Set on low temperature for 10 hours (perfect if you've got your massage right after work!)  After 10 hours, toss in a few generous handfuls of spinach to wilt, add salt and pepper to taste.
Serve with a sprinkle of feta cheese and a side of bread or a few crackers.

I'd LOVE to hear your favorite hearty and easy meals to enjoy on massage days! Need a massage day? Click here to book yours online!