Get caught up on my European Spa Tour with the a group of midwestern massage therapists by starting with my first post! Click here.
Public saunas and thermal pools are an important part of everyday wellness in many European countries, including Switzerland, Austria and Germany. When a town has the word "Bad" in the name, it means it is a spa town, yes. A town for healthy living with a geothermal baths and saunas in the middle. Awesome, right? Many of these towns are in the most incredible settings too, surrounded by mountains and nature.
We visited two spa towns with Sauna complexes, Thermalbad Zurzach in Bad Zurzach, Switzerland and Alpentherme in Bad Hofgastein, Austria. Both of these complexes had rehabilitation centers attached, which I'll describe in further detail in a future post. The public pools and saunas will be more than enough for one entry! The coolest aspect of both of these facilities is that they are not necessarily a special treat for people, but integrated into a regular health and wellness routine.  Some of these facilities are huge! Below is a map of Bad Zurzach thermal complex.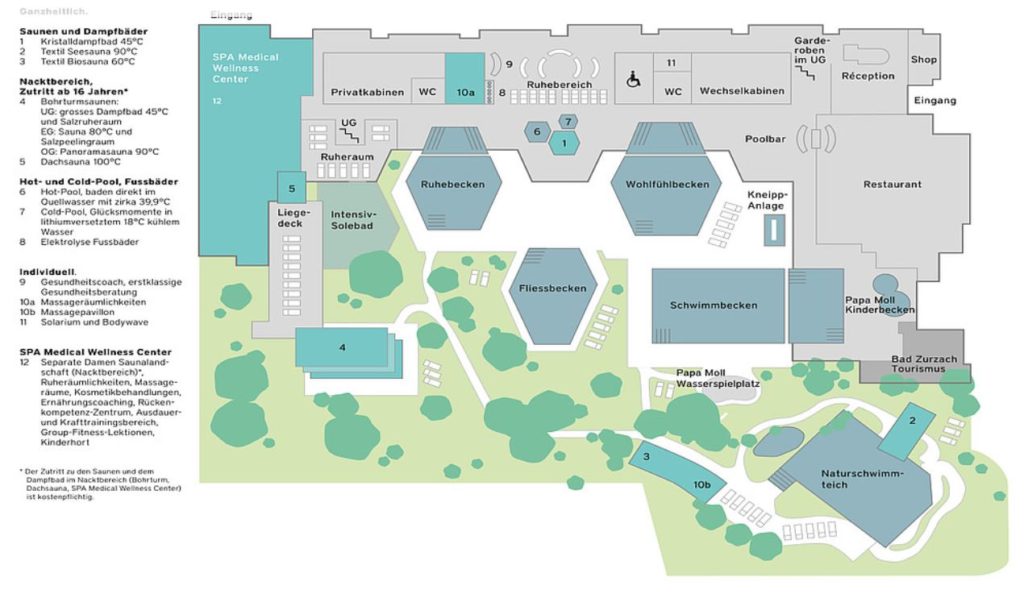 Your visit starts with check-in where you get a wrist band that opens your locker and allows you to charge purchases. Food and drink (and beer!) are available at many sauna complexes. If you opt to receive a spa service or use special areas that cost extra, you can charge those to your wristband too so you don't need to carry money. You'll want to bring your own bathing suit,  towel and sandals or you'll need to rent them. At some complexes you can rent everything you need, but not at all.
The locker rooms are large and may or may not be co-ed. In the first complex we visited the locker rooms were segregated. In the second, there was just one locker room, but people were expected to dress in private dressing closets and showers were segregated so the co-ed thing was a non-issue. In a third smaller urban complex (that half of the group visited) the lockers and showers surrounded the pools so there was no room for modesty.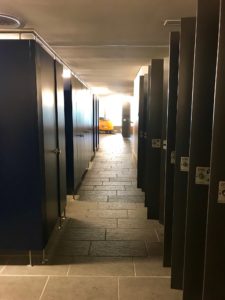 Once you get through the locker room, these places are nothing short of magical. The natural thermal waters are incredible. There are pools of varying temperatures, indoors and outdoors. Some of the pools have features like back massage chairs or high pressure waterfalls that offer an incredible shoulder and neck massage. The photos don't do them justice, but I'll try!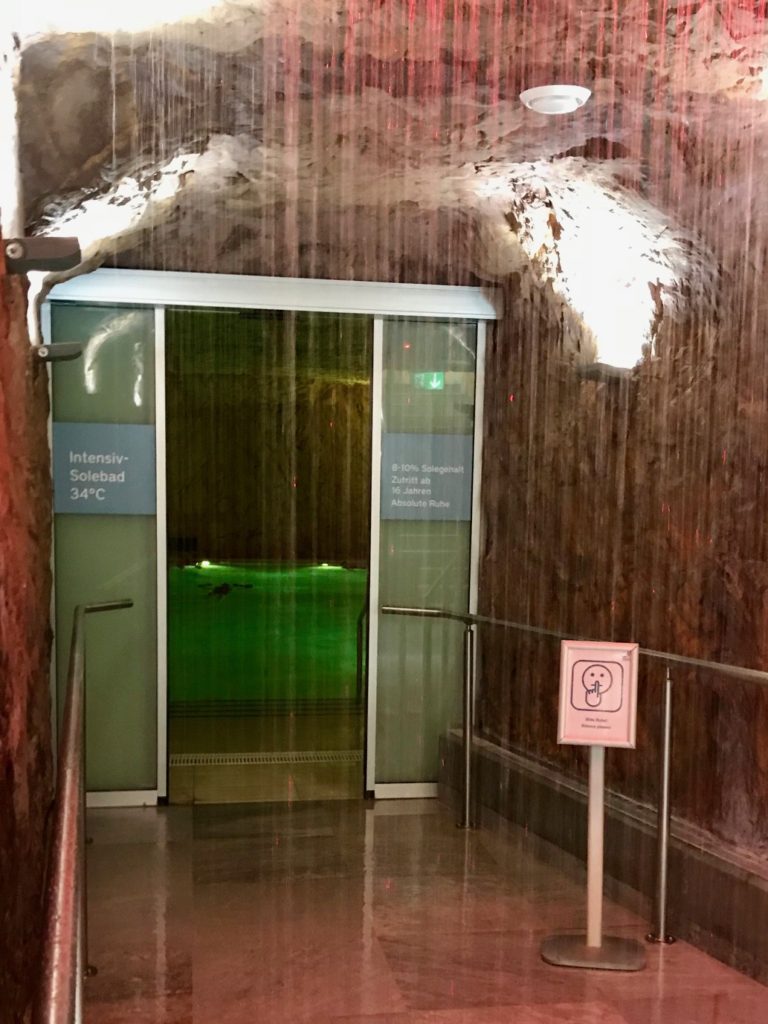 The above sensory float pool in Bad Zurzach was one of the coolest features. I wanted to respect other patrons this is the only photo I took. It feels like a cave. You walk through a hot water shower into this trippy shallow pool with a high salt content. It is like a float chamber, but bigger. Silence is required except that they have nights in this float pool with a DJ too. The colors change and people just all float together. It was awesome. To see better pictures, click here for the website.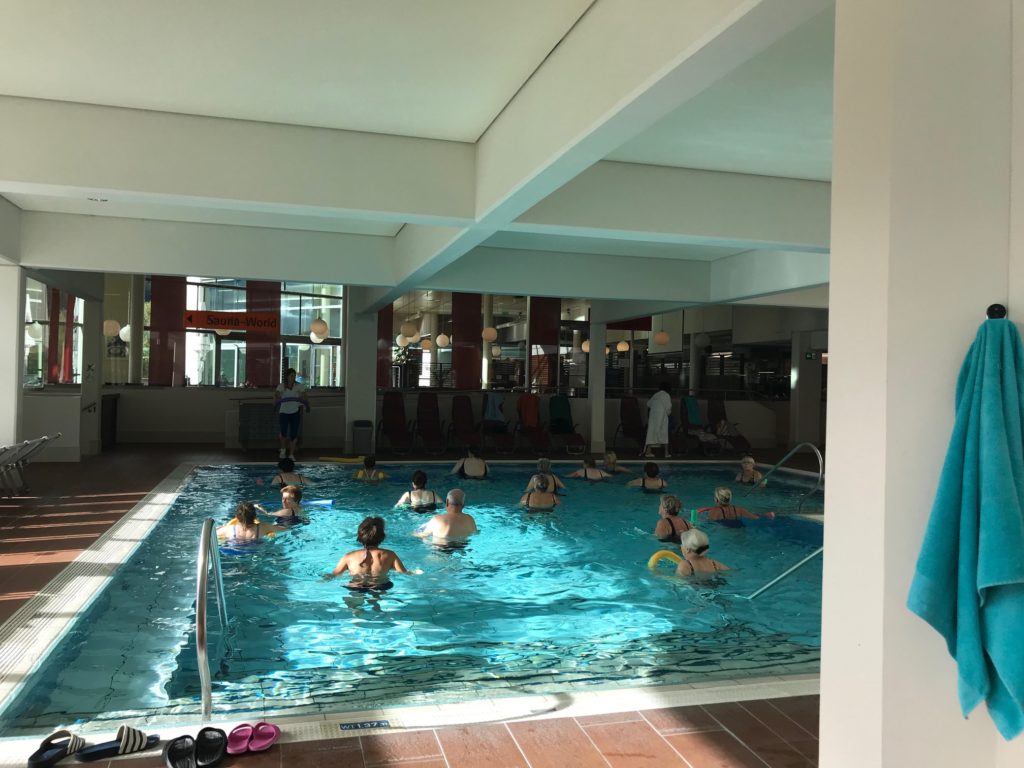 At the sauna complex in Bad Hofgastein in Austria, one of the pools was regularly used for water aerobics classes both for the pubic and for people staying at the rehabilitation clinic. I did a 20 minute class to help work off the gigantic pizza I ate in the snack bar. Speaking of which, it was awesome to see groups of women having a nice day together, sitting around in towels and bathing suits eating and laughing without worrying about hair, make-up, or "sucking it in."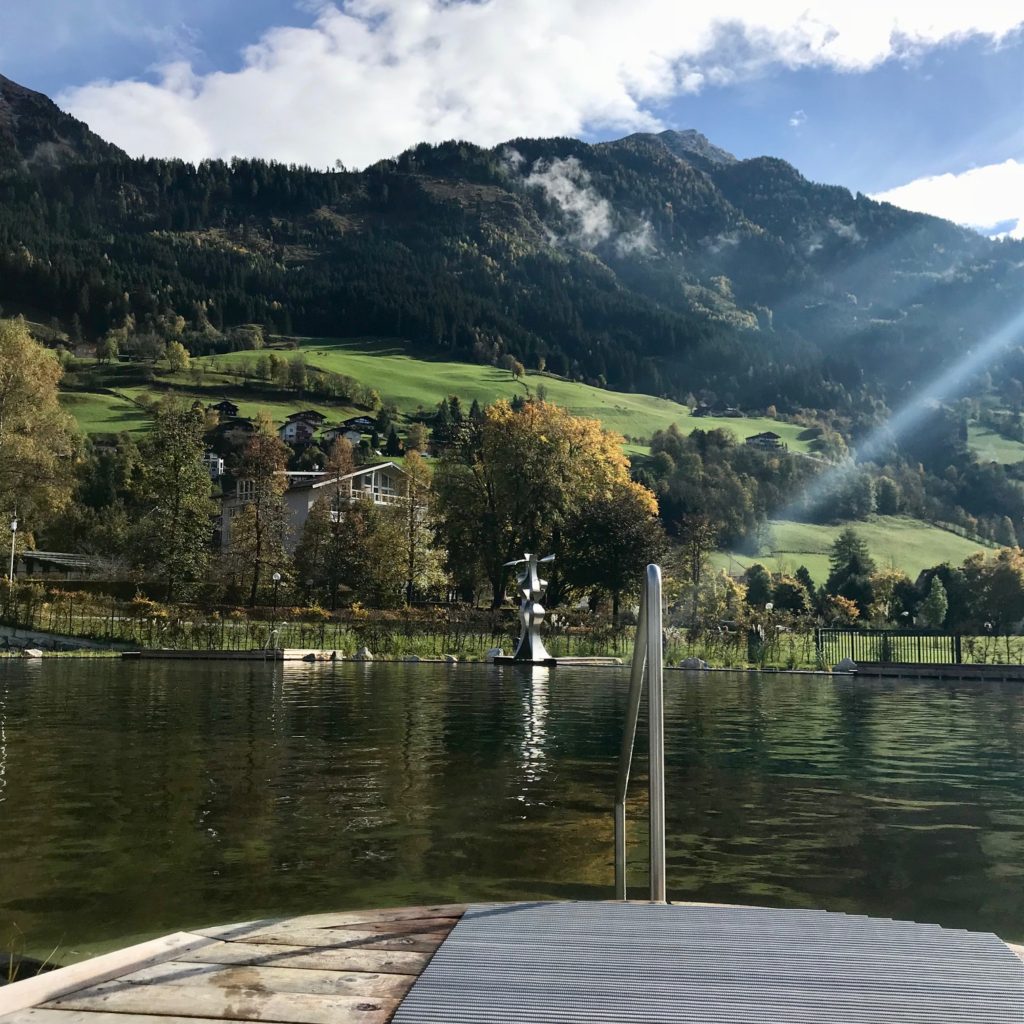 This man made lake in Bad Hofgastein was fed directly from hot springs. The water at entry was chilly, but I was rewarded for swimming out to the sculpture where there was hot water pouring at a high force. It was the best upper trap massage ever. The facility is situated in a valley and residents in their rehabilitation center are encouraged to go for walks to get fresh air and exercise. The view was the best amenity of all at this facility.
The saunas were another main attraction, but because of nudity in the saunas, I didn't take photos. Both large facilities had saunas and steam rooms with a variety of temperatures. For the most part, the saunas didn't permit bathing suits, though you need to sit on a towel and nobody judged if you stayed wrapped in your towel. In some saunas people would do infusions and fan essential oils and herbs through the air. It is bad etiquette to open the door during these infusions (unless you have to leave because you're overheated) because it lets the aromatic steam out. Click here for a panoramic of my favorite sauna at Bad Zurzach. This is a virtual tour of the "Sauna World" at Alpentherme in Austria.
I can't really think of a fair comparison in the states. As far as a spot where all ages are invited to regularly enjoy health and wellness pursuits in an inclusive and welcoming atmosphere, these kind of remind me of a way more relaxing version of a YMCA (the vibe, not the actual amenities). I know that in some mountain resort areas there are facilities like this, but not to the same extent and not with such a heavy emphasis on saunas and cater more to tourists. In the luxury resort spas in America that have sauna, steam, and water amenities the cost to use the facilities make it prohibitive for most people other than as an occasional treat when on vacation. Korean spas in larger America cities are one other potential option with similar rates, but tack the mountains,  fresh air, and general support of the national medical community.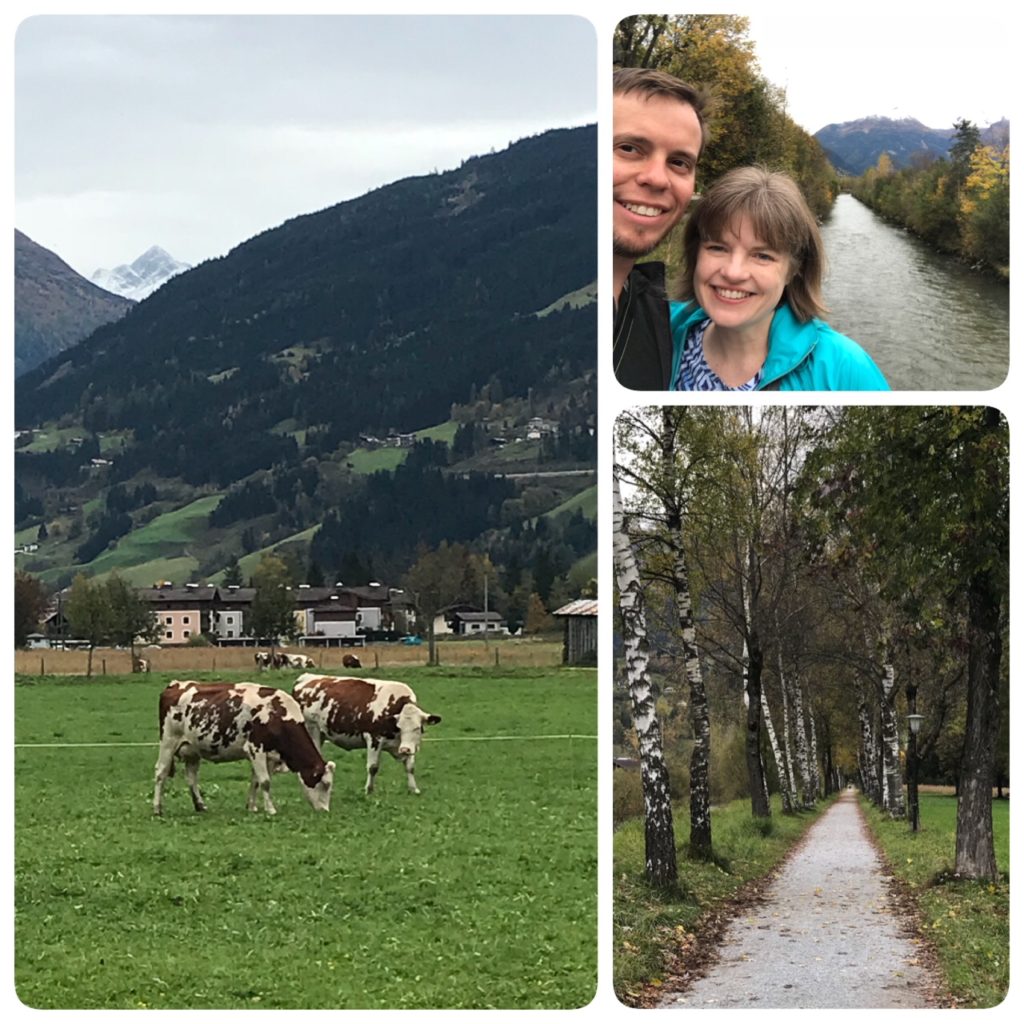 The sauna complexes in the countries we visited were not a terribly long train ride from metropolitan areas and the price of admission made them accessible to most residents. Their proximity to health rehabilitation clinics make them a routine part of health and wellness services for people from children to seniors.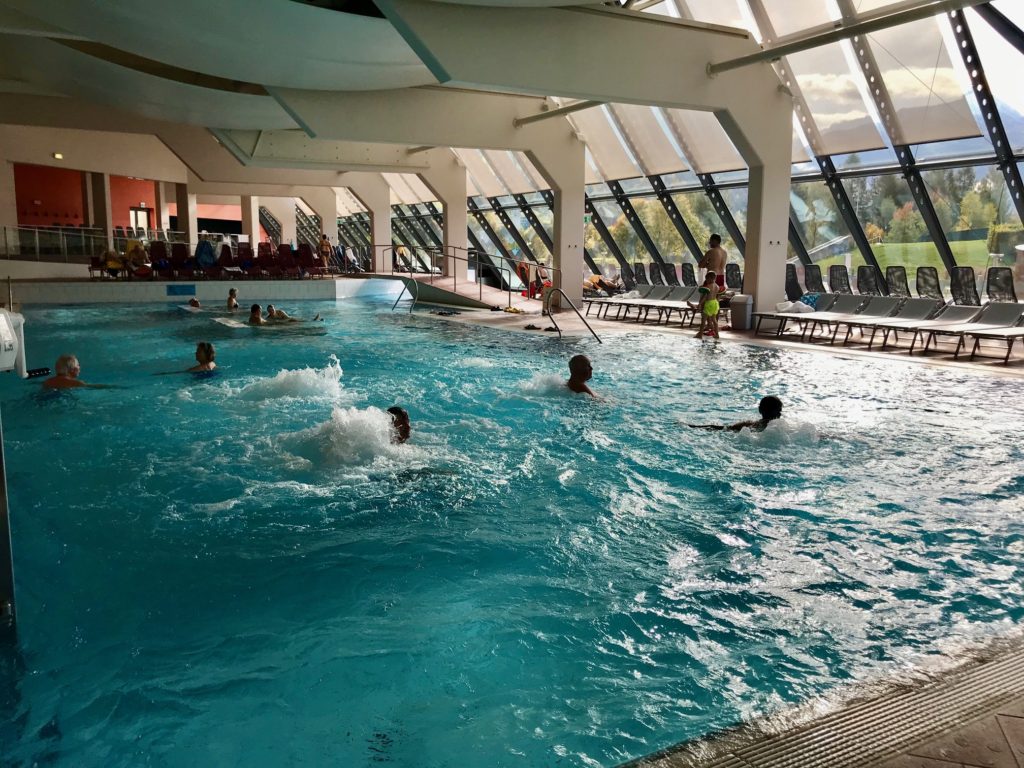 Click here for part 4: Rehabilitation and medical services.