I'm watching the snow fly on October 12th in Iowa. Dry skin season is approaching faster than we'd like. When the weather gets cold, there is nothing better than a warm, nurturing body scrub at a spa or at home in a steamy shower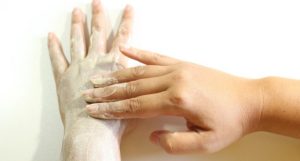 Why do a body scrub?.
A scrub is a product containing a "gritty" exfoliant like salt, sugar, or ground up materials like fruit pits or seeds, mixed with nourishing and hydrating oils. Scents may be added for extra feel-good benefits. Exfoliating with a body scrub helps to remove dead skin cells, boost circulation to the skin, and leave you feeling cleansed and refreshed. A benefit of removing dead skin cells is that your skin can better absorb hydrating products like lotions or oils. When you get a scrub at a spa, you'll also enjoy incredible stress-relieving and muscle melting benefits. You'll lay on a warm table and enjoy not only the sensation of exfoliation, but hot towels and light, circulatory boosting massage.
Depending on the type of scrub you you use and your skin type, you can exfoliate 1-3 times weekly, but don't overdo it! A gentle exfoliation is sufficient, you don't need to give your body the power-sander treatment.
What's the difference between salt, sugar, or other ingredients?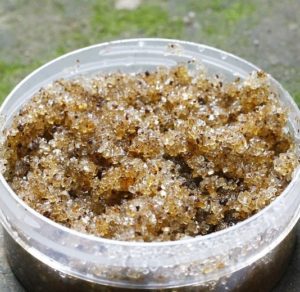 Sugar: Sugar is one of our favorite exfoliating ingredients because it is gentle and a natural humectant, meaning it attracts and attaches moisture to skin. It is the best choice for sensitive skin. This may be a finer sugar, or a larger crystal sugar for different levels of exfoliation.
Salt: Salt is mineral-rich and gritty, making it a popular choice for scrubs, especially for dry heels, elbows, etc.. Using a salt scrub on freshly shaved legs or on cracked hands might sting a bit.
Seeds and pits: Ground apricot pits are a common exfoliation ingredient, along with other natural seeds. Look for these to be powdered, if they aren't ground finely enough, they can be jagged. We don't recommend this in facial scrubs.
What are our favorite scrubs?
Camille, our Managing Esthetician, swears by the Farmhouse Fresh Shea Butter Scrubs. Camille's favorite Scent is Triple Shot Caramel Coffee. "The shea butter is hydrating, you can never get enough of that this time of year. Plus, the coffee scent helps me wake up in the morning!"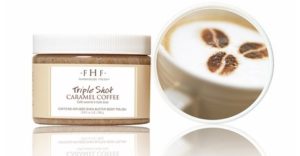 Kelly, our Spa Director, loves the Farmhouse Fresh Watermelon Vodkatini Sugar Scrub because it smells delicious and leaves her skin dewy and soft.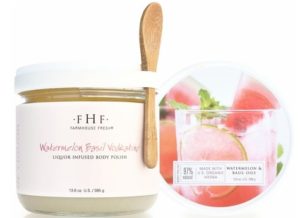 My personal favorite are the Body Bliss custom Aromatherapy Blended scrubs. The sugar crystals are finely ground (so they don't fall everywhere in the shower) and it is super rich and hydrating so a little goes a long way. I like using the aromatherapy app to customize a scrub recipe for things like muscle aches, sleep, or more.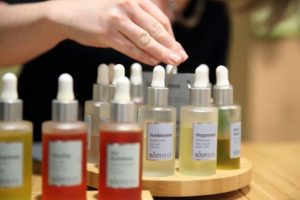 What is a body scrub like at East Village Spa
Curious about booking a body scrub? We offer a fun and therapeutic aromatherapy body scrub. First, you'll meet with your massage therapist or esthetician to use our custom aromatherapy app to create a perfect essential oil blend for your needs. Your therapist will blend your recipe into a nourishing antioxidant and vitamin rich oil base. She'll then use a milk and sugar blend to gently exfoliate your skin and boost circulation during the service. You'll be treated to heavenly hot wet and dry towel compresses to remove the scrub and ease sore muscles. As a special gift, you'll get to take home a jar of scrub in a matching essential oil blend to turn your shower  into a mini-spa retreat.
Book a scrub and see for yourself how wonderful they are, especially when the weather gets cold. I recommend adding an additional 30 minute back massage or 30 minute facial on for extra TLC, you won't regret it!